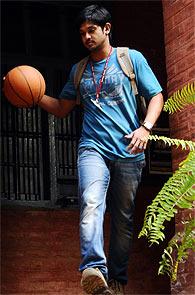 Vallinam advocates in promoting sports other than cricket and according them the same respect and recognition, writes S Saraswathi.
Vallinam, a film directed by Arivazhagan Venkatachalam of Eeram fame, is set against the backdrop of the sports scene in our country.
The mad craze for cricket and the complete lack of empathy for any other sport is highlighted in the film.
Vallinam is produced by Aascar Ravichandran and features Nakul as a basketball player and newcomer Mrudhula Basker.
The film also stars Jagan, Atul Kulkarni, Jayaprakash, Siddharth Jonnalagadda among several others.
Aadhi, Krishna Kulasekaran and R J Balaji who featured in Eeram make a brief appearance.
Krishna (Nakul) and his close childhood buddy Shiva (Krishna Kulasekaran) are accomplished basketball players.
However, an unfortunate accident during a game leads to the death of Shiva.
A grief-stricken Nakul feels responsible and decides to quit the game and college.
He joins a college in Chennai that has a great cricket team. The boys playing cricket, especially the captain, Vamsi (Siddharth Jonnalagadda), are a bunch of arrogant bullies, who are constantly ridiculing the basketball players.
Krishna becomes friends with Guna, one of the basketball players, and together they decide to take on the might of the cricket team that has won many laurels for the college.
The face off between the two teams with the odds totally stacked against the underdog basketball team, and the cricket team receiving preferential treatment even from the management, forms the rest of the story.
Director Arivazhagan and cinematographer Bhaskaran have successfully managed to take us into the world of college students and sports.
The college atmosphere and the student characters – their body language, lingo and vitality, exuberance, hopes and dreams - have been perfectly portrayed.
After the debacle of Naan Rajavaga Pogiren, Nakul seems to have returned with a bang. The script and character seem to be tailor made for him.
He has given an admirable performance. He appears both aggressive and vulnerable.
Newcomer Mrudhula Basker has given a decent performance and even the supporting cast has done their job well. Jagan keeps the audience entertained with his witty one-liners.
The second half is rather slow. The exciting games take a backseat in favour of irrelevant fight and song sequences and verbal cinematic clashes.
Vallinam makes a strong plea to a cricket crazy nation to encourage and motivate other sports. It's doubtful if the message has got through: during the closing credits, which feature all the distinguished sportsmen of our country, Sachin and Dhoni receive the loudest whistles and claps from the audience.
The music is by S Thaman. Sabu Joseph is the editor.
Rediff Rating: