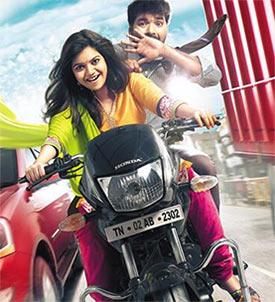 Tamil film Vadacurry is a commendable effort, says S Saraswathi.

There seems to be a new trend among filmmakers to name their films after food items.

After Pizza and Biriyani, it is now Vadacurry (a popular South Indian delicacy).

The charming pair of the super hit Subramaniyapuram, Jai and Swathi Reddy, are back together in an entirely new avatar for this film. Produced by Dayanidhi Azhagiri's Meeka Entertainment, the film is directed by debutant Saravana Rajan, a former associate of Director Venkat Prabhu. And interestingly both Venkat Prabhu and Premgi make a guest appearance in the film.

RJ Balaji plays a significant role and the sexy Sunny Leone has done a special dance number, sung by Kolaveri fame Anirudh Ravichander and the Andrea Jeremiah.

The film also introduces the music director duo Vivek Shiva and Mervin Solomon.

Vadacurry is all about how the desire for a high-end mobile phone lands the protagonist, Satheesh (Jai) in trouble.

Satheesh, a medical rep, is constantly teased about his cheap mobile phone. Karikalan (RJ Balaji), his good-for-nothing friend is of the opinion that mobiles dictate your social status. He believes that the more expensive mobile you own, the more respect you earn in society and you also have girls falling all over you.

Just when Satheesh is totally fed up with all the jokes being cracked at his expense, he comes across an unattended Apple iPhone. After much deliberation, Satheesh decides to pocket the phone and unintentionally gets into a whole lot of trouble.

Satheesh becomes involved in a
complicated drug racket, which involves a vast network of people from the pharmaceutical companies. Drugs, which have crossed their expiry date are collected, relabeled altering the shelf life, and marketed once again.
How he gets out of this mess forms the rest of the story.
Jai is continuously bullied in the film, by his friends, his lover, his manager, as well as the villains and this requires him to be vulnerable, portraying which has become a bit of a cakewalk forhim. He is also good with romance and comedy, so the role is perfect for him.
Swathi looks very pretty and does play her part well, but there is little scope for her to perform.
RJ Balaji makes a welcome change as the hero's sidekick, with his non-stop nonsense, keeping the audience in splits throughout. Even bound, beaten and held captive by the villains, he coaxes out a conversation about the best Shirdi Sai Baba temples in the city. He is totally hilarious.
Director Saravana Rajan deserves all credit for keeping the story short, humorous and entertaining. The ceaseless ringing of mobiles in the film gets on your nerves, until you realize that the director is trying to make a point.
The omnipresent mobile can sometimes drive anyone crazy. There is an animated song in the film,
Ullankaiyil Ennaivaiththu
, which highlights out our dependence on mobiles and the havoc it can create.
It is a crisply made film with an engaging screenplay, good music, great comedy and excellent performances. The climax is a little too tame, but even that seems to gel with the rest of the film.
Vadacurry
is a commendable effort by the director and definitely worth a watch.
Rediff Rating: