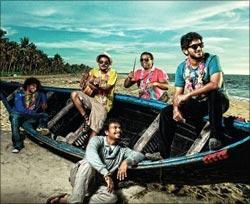 Paresh C Palicha feels that director Anwar Rasheed serves us a delicious meal with Ustad Hotel

Ustad Hotel
written by Anjali Menon and directed by Anwar Rasheed with Dulquer Salman and Nithya Menen in the lead has many things going for it. The story, performances, and treatment have all come together to make a very good film.
The story of Faizi (Dulquer Salman), the hero, began much before he was born. His father (Siddique) wanted a son to keep his empire running. Faizi was born after four girls and as his mother died soon after giving birth to him, he was brought up by his sisters and spent most of his time in the kitchen.
As he grows up, his sisters are married off one by one. And then his father marries for a second time. Faizi is off to do a course in hotel management in Switzerland, and when he returns with much fanfare after the course, it is revealed that he has done a chef's course secretly and not hotel management. This shatters his father's dream of opening a five-star hotel in his home town Kozhikode.
His father is annoyed and virtually disowns him and even takes away his passport and credit cards so that Faizi cannot go to London where he has already got a job.
In anger, Faizi leaves home and joins his grandfather Kareem (Thilakan) who is running a small eatery on Kozhikode beach named Usthad Hotel, which is famous for its biryani.
Kareem and his son are not on good terms because Kareem was not ambitious enough and was happy to run this small eatery on the beach while his son
wanted to expand the business.
As expected, this is a coming of age story where Faizi gets the real life experience of running the eatery and is put through the grind by his grandfather who makes him go through the motions from cleaning the tables to being a delivery boy. He even finds his real love in Sahina (Nithya Menen).
Writer Anjali Menon has given the story many layers and its simplicity is engrossing. We cannot simply divide the credit between the writer and the director Anwar Rasheed (who himself seems to have come of age since the beginning of his career when he made so-called blockbusters with superstars before turning to films with solid stories like Bridge, a short film that was a part of the much acclaimed Kerala Café).
If we have to do some nitpicking, then we can say that the second half seems to be inspired by Bala's National Award winning Tamil film Naan Kadavul with Tamil actor Jayaprakash making an inspiring appearance.
As acting honours go, veteran actor Thilakan takes away a huge piece of the cake. His part requires him to be subtle and not loud or exaggerated.
Dulquer Salman gets to show the different shades of his character and his own development. We can see that he has grown from the brooding youngster in his first film, Second Show, to a charming young man getting hold of his life in this film.
Nithya Menen as the leading lady too gets a meaty role as her character is well etched.
Writer Anjali Menon and director Anwar Rasheed have given us a delicious meal at Ustad Hotel.
Rediff Rating: