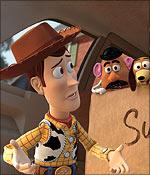 Preeti Arora reviews Toy Story 3.
This seems to be the season for farewells and goodbyes.
We've just had Shrek: Forever After and now we have Toy Story 3, the last and final sequel in the series. Coming 15 years after the original Toy Story and more than a decade after the second film (Toy Story 2) one is a trifle apprehensive.
The first two films weren't just megahits commercially; every little boy (and a lot of girls too) who grew up in the '90s thought of Woody and Buzz Lightyear as extended family. The third part of this comic series which was announced as a 3-D film has generated tremendous hype and excitement. But underlying it was a fear in case the film failed to live up to people's expectations.
Does the film disappoint? Is it an attempt to cash in on a hugely successful brand? No, Toy Story 3 has all the earlier elements combined with stunning visual effects, touching dialogues and a brilliant background score. Really difficult to find fault with this one!
Andy, the little boy from the first two films is now an adolescent who's headed for college. For those seeing this film for the first time, a short collection of home videos shows us how Andy the little boy is now a gangly adolescent headed for college. 
His mother asks him to sort out his belongings into four categories -- trash, for the attic, for college and for the local daycare centre. Except for Woody, whom Andy plans to take with him, he plans to store all the other toys in the attic. But in the ensuing confusion these toys get dumped at Sunnyside (daycare centre). 
Sunnyside appears to be utopia from the outside but inside it's being run more along the lines of a reformatory. The toys meet the sweet looking bear 'Lots-O-Hugging' who appears to be all charm on the exterior but in actuality is a tyrant.
The toys must escape from Sunnyside and make their way home before Andy leaves for college which is barely a couple of days away. Except for Woody who had escaped earlier. But being the loyal friend he is, he returns to rescue his pals.
As they put their escape plan into motion we have a whole new lot of toys that we haven't seen earlier. There's the purple octopus, all squishy and squelchy, there's a talking phone and the poster boy Ken. But all the old favourites Mr and Mrs Potato Head, Slinky Dog, Rex and Jessie have been given ample screen space.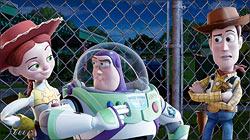 The motley group of toys makes their way across the city finally ending up at the landfill. There are some scary moments when the entire lot seems destined to get trashed or burnt alive.
But what will really bring tears to your eyes is the last few minutes of the film where Andy relives his childhood all over again. You leave the auditorium with a smile on your face even as you're busy wiping your tears.
Like most Pixar films Toy Story 3 is also a film for all ages. Teenagers of course will love the film but so will the adults. The film addresses so many issues; an individual's need to belong, why power goes to some people's heads, why even accidental rejection sometimes create a lifelong feeling of abandonment. And of course it shatters the myth that only little girls get attached to their dolls.
At no point does the 3-D effect hamper the storyline; the effects merge seamlessly into the story line. Truly the best one has seen so far.
Do not give this film a miss for any reason. Never mind your age, or the kind of cinema you generally prefer. Toy Story 3 has something for everybody.
Rediff Rating: