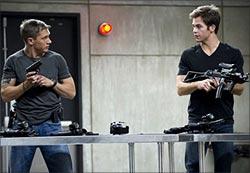 This Means War is a stupid film and commits the even greater mistake of assuming that we, too, are stupid, writes Shaikh Ayaz.

This could possibly be the only Bollywood movie -- about two men in love with the same woman, or, to reverse it, one woman in love with two men -- that isn't made in Bollywood. But, the amorous dinners, online dating, dirty talk, undercover missions, German adversaries, cars exploding and a poetic justice situation slipped in clumsily at the end are as American as they come.
McG's
This Means War
degrades further the quality of breezy, typically happy-ending romantic comedies that Hollywood once excelled at. To keep the plot self-consciously thrilling, director McG (whose real name is Joseph McGinty Nichol, who made his big-screen debut with
Charlie's Angels
) takes recourse to a spy-at-work setting. Despite this, the film is more a who's-the-best-man contest between the paramours than about the two agents pursuing their agency's bête noire, a revenge-seeking criminal.
FDR (Chris Pine) and Tuck Henson (Tom Hardy) occupy desks across each other at their high-tech CIA office. Tuck is separated from his wife Katie (Abigail Spencer) but visits his only son dutifully, attending his karate classes like a doting dad. When he meets the lonely, Klimt-loving executive Lauren Scott (Reese Witherspoon) through an online dating site, it's Fate.net, he finds instant comfort and they start going out.
FDR too meets Lauren --
at a DVD store. At first she resists his flirtatious charm; then one evening she spots a friend with his fiancée and in a bid to impress him, shares an intimate kiss with FDR. This kick-starts their relationship and soon, without realising it, Lauren is in love with both her suitors.
Behind her back, FDR and Tuck are having their own little game which spirals out of control when they break their gentleman's agreement of not having sex with her.
Guiding Lauren through the precarious situations is her friend, agony aunt-cum-sex expert, Trish (Chelsea Handler) who, as you may have guessed, is pressed into service for comic relief. "Don't choose the better guy. Choose the guy who makes you better," she counsels Lauren, ridiculously offering herself as a tester to sleep with the boys and check them out.
At one point, Lauren likens FDR's "emotional intelligence" to that of a 15 year old. The same, as it were, applies to this film.
It has none of the appeal or light-heartedness of a romantic comedy nor the suspense or style of a spy film. The CIA agents do nothing but loaf around. They spy on each other, planting hidden cameras to track any movement and end up busting the party when they should actually be using the equipment to nab enemies threatening America's security.
This is a stupid film and commits the even greater mistake of assuming that we, too, are stupid. 
Rediff Rating: