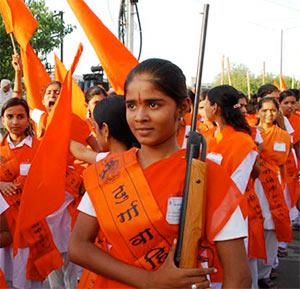 What makes The World Before Her stand out is that it has the courage to ask what nobody else does: who is the Modern Indian Woman? Paloma Sharma reviews the film.
The increasing reporting of violent crimes against women in the past two years has made women's issues a matter of some public, and inevitably, media, attention.
There have been several examinations of the rights of the "modern Indian woman" and the abuse she faces every day.
If you watch enough of them, they will all melt into one.
What makes Nisha Pahuja's multi-award winning documentary stand out is that it has the courage to ask what nobody else does: who is the Modern Indian Woman?
The World Before Her follows two young women -- Ruhi Singh, a Miss India aspirant from Jaipur, and Prachi Trivedi, an instructor at the Durga Vahini boot camp in Aurangabad.
Though leading lives that run parallel and in stark contrast to each other, they crave the same thing -- freedom.
Ruhi Singh is an adorable, pouty 19-year-old who has made it to the top 20 of the Miss India contest and wants to win to make her parents proud, she says.
Prachi Trivedi is a staunch follower of the militant right-wing Vishwa Hindu Parishad's women's organisation, Durga Vahini, and hopes to be the next Pragya Singh Thakur.
Though her parents are proud of her devotion to the cause of Hindutva, they are unhappy with her decision to serve Durga Vahini all her life.
Trivedi sees herself as gender neutral and does not want to marry, although her orthodox, fundamentalist father believes that marriage and childbirth are a woman's duty.
Trivedi fights.
Singh does not.
Ruhi Singh knows that marriage is imminent and later on reveals that she is here because she wants to "enjoy life" now, before a husband comes along.
Although the more polished world of the Miss India boot camp comes across as a better place for women in the beginning, you slowly begin to see that it really isn't much better than the brainwashing militant Durga Vahini camps.
At the Durga Vahini camp, the goal is to de-sexualise a woman's body and teach her that her real place is in her home.
At the Miss India boot camp, women are judged on the basis of their sex appeal (and not much else), which is restricted to body measurements and skin fairness levels.
Vahinis are moulded with Hindutva ideology and guns; Miss India hopefuls with sexist, elitist contempt and, quite often, botox.
Pahuja takes the viewer deep into both worlds without shoving any judgement of her own onto the audience. Her subjects are both endearing (Prachi) and annoying (Ruhi), different and yet frighteningly similar.
While one acknowledges that she is fighting for a system that eventually aims to keep her subordinate, the other is mesmerised by her glossy dreams.
It comes as a huge relief that (unlike the recent Gulabi Gang's director Nishtha Jain) Pahuja does not interfere or ask questions at crucial moments. She watches patiently as the action unfolds.
The film is wonderfully edited, with an interesting soundtrack. But it begins to drag a bit when Pahuja introduces a political angle to the Durga Vahini "struggle" in order to provide context, but does none of that for the Miss India competition.
The World Before Her is a poignant, disturbing watch. It makes you wonder which will be the new India -- Ruhi's glamorous "modern" world, or Prachi's traditional, religious State. And will either of these really be so different from each other?
On one hand, Ruhi and her fellow contestants are covered from head to hip in a white cloth by the pageant's director Marc Robinson (who comes off as increasingly creepy as the film progresses) and are paraded down the runway in hot pants so that he can judge them on the basis of their legs.
On the other hand is Prachi's father (who teaches little girls at the Durga Vahini camps that Muslims and Christians are "taking away your India") who watches the final of the Miss India contest and speaks of how the contestants have little clothing and no shame -- while he himself hardly ever appears with his top half covered.
Eventually, Ruhi and Prachi are both caught in systems which, while claiming to empower them, only seek to keep them enslaved.
If that is how it is, then how many opportunities does half of the legendary Young India really have?
Rediff Rating: