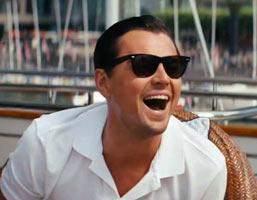 The Wolf of Wall Street can really please the senses. Just remember to forget your humanity for a while, says Paloma Sharma.

Here's what's interesting about Jordan Belfort (Leonardo DiCaprio) -- his obscene money, his extravagant parties and his absolutely disregard for anyone but himself.

If you strip away Belfort's power and the luxury he commands, all you are left with is a shallow, stinking pit of darkness; and yet, the film's director, Martin Scorsese, chooses to glorify his subject's rise and lifestyle without giving his victims and his downfall much screen time.

Based on the memoirs of the real Jordan Belfort, The Wolf of Wall Street plays its cards right but fails to click.
It follows a 22-year-old Belfort, then married to his first wife Teresa (Cristin Milioti), a hair dresser, right from his debut on Wall Street to his unimaginable rise to the sales genius the world knows him as.

DiCaprio's voice narrates in the background as Belfort spends the entire film getting high on everything from weed to coke to sleeping pills and committing crazy, dangerous, appalling acts such as cheating on his first wife, raping and assaulting his second wife and driving his three-four year old daughter without her seat-belt on while under the influence of the good ol' white powder.

You've seen this before in those classic East Coast mafia movies.

However, this time the bad guy's not a thug or a mafia boss. He's a suave financial criminal in a suit. People look up to him. They want to be like him. But the truth is, even Jordan Belfort cannot stand Jordan Belfort unless he is high. He's like Gordon Gekko (Wall Street, 1987), except he's worse -- he's real.

DiCaprio does such a good job of playing Belfort that he really makes you hate his guts for all 170-odd minutes of the film. The whole cast was brilliant. But the tragedy is that they were playing such dull, desperate people that even their best attempts could not make it engaging -- with the exception of Matthew McConaughey's eccentric Mark Hanna, who takes Belfort under his wing and teaches him about stock brokerage and how to survive it.

Despite the slick visuals and clever manipulation of the script, I saw nothing in Jordan Belfort. I could not understand why someone chose to make a film about him and not any of the other 7 billion people on the planet. There is nothing that makes Jordan Belfort stand out in a crowd except for his '$2000 suit.'

If The Wolf of Wall Street were a person, I probably wouldn't turn around to give them a second look. It is rather shocking and extremely heartbreaking to see this coming from a director I admire so much.

My only solace while enduring this film was the foot-tap-worthy background score. Featuring hits from the Foo Fighters (Everlong), Kanye West (Black Skinhead) and The Lemonheads (Mrs. Robinson), along with Sir Mix-a-Lot's addictive Baby's Got Back, the soundtrack's got some serious spunk.

It looks good and it sounds good too -- The Wolf of Wall Street can really please the senses, it seems. Just remember to forget your humanity for a while.

Rediff Rating: