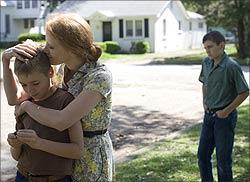 Aseem Chhabra says Brad Pitt-starrer The Tree Of Life is a self-indulgent piece of cinema. Post YOUR reviews here!

Today, the world of cinema is divided between two types of film lovers. The first is a group of cinema fanatics across the world that worships American filmmaker Terrance Malick, 68 (I share my birthday with him). He has only made five films.

He made two films in the 1970s -- Badlands (1973), followed by his stunning masterpiece Days of Heaven (1978); then another one 20 years later, The Thin Red Line, followed by The New World (2005). And now his most controversial and divisive work of all, called The Tree of Life.

This group can wait for a decade for Malick to unveil his new film. This group -- I call them cult followers of Malick (in a good way) -- is rejoicing today, feeling vindicated that the director's new film has been given the Palme D'Or at Cannes, the grandest of any international film festival awards, despite mixed reviews and reports of boos after the press screening a week ago.
As was expected, the reclusive filmmaker -- often rightly called the J D Salinger of cinema -- did not show up for the press conference following the screening at Cannes or to receive his award. But this group is willing to forgive all for the master's new work.
The second group, often admirers of Malick's works, feels that this time the obsessive filmmaker really went too far -- editing the project for over three years, with many delays. The final product baffled them. 
I belong to the second group. I liked Malick's previous films. I simply loved Days of Heaven -- a love triangle with the many stunning shots by cinematographer Nestor Almendros during the magic hour, starting with the pre-twilight moment, just before the sun sets for good, and with very youthful looking Richard Gere, Sam Shepard and Brooke Adams. 
But last Thursday, I walked out of the press screening of The Tree of Life (the film opens in New York City on Friday, May 27) stunned, moved, but yet perplexed and confused. 
I can see why some people think The Tree of Life is brilliant -- French director Olivier Assayas, and Cannes jury member, was quoted on Twitter as saying that he loved the film. It is beautifully shot with vast amount of the similar perpetual summer sunlight images, very magical at times, reflecting the warm memories of the three young O'Brien brothers growing up in the post-Second World War town of Waco, Texas.  There is sheer poetry in the camerawork of cinematographer Emmanuel Lubezki. 
The whole film works as a flashback narrative from the perspective of the adult older brother Jack (Sean Penn, in a brief appearance), as he reflects on his leisurely lived, but troubled childhood with an authoritarian, at times loving father (a very effective Brad Pitt), and a softer mother (Jessica Chastain).
At its core The Tree of Life attempts to be a spiritual, religious film. It opens with a section from the Book of Job -- a conversation between God and Job. And then Malick goes through the exercise of showing us how the earth and its creatures were created, with explosions, earthquakes, volcanic eruptions, oceans, trees and other objects of nature. Great computer generated images, including a section with dinosaurs, but this is where my mind started to wander off. I began to ask myself the question: 'What the heck am I seeing and what is Malick really trying to get at?'  That moment when one starts to question a film, while watching it, can be dangerous. It is a sign that the film is not working -- at least for one viewer.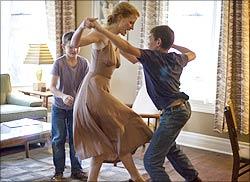 After the National Geographic lesson on the creation of the earth, we are brought back to Waco and see the birth of the O'Brien children and the genuine beauty in their lives. But those perpetual summer shots along with other playful moments that I mentioned earlier start to become repetitive, and go on and on, to the point that it gets tiresome and tedious seeing young white boys out in the open, with the camera capturing their dance of childhood to the sounds of classical music pieces. Plus, there are too many quiet moments, words whispered and narrated by voiceovers.
Towards the middle of the film, there is some effective and compelling drama as Pitt's Mr O'Brien starts to assert himself as a father in control of the lives of his family. We see the children suffer and it is very tragic. Penn's rare appearance shows the scars of his childhood as he tries to cope with his life in today's world.
Some of this can make remarkable cinema, but it was also at this time that another expression appeared in my mind: 'self-indulgent.' I hope Malick's many fans will forgive me, if I dare to say that The Tree of Life is an extremely self-indulgent film. These are tough economic times and yet it is surprising, rather shocking, that some studios give so much leeway to certain filmmakers. 
At two hours and 18 minutes The Tree of Life feels very long. A more economic director could have easily told the same story in a far less time. But Malick the genius who makes one film a decade manages to get away and how!
I cannot dismiss The Tree of Life. There is a too much good in the film to write it off. But unfortunately in the end, the sum total does not add up to a great film.
Rediff Rating: