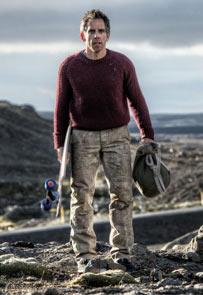 Beautifully shot and easy on the eyes, The Secret Life of Walter Mitty is thoroughly engaging, writes Paloma Sharma.

Are you tired of overly violent 3D films?

Tired of crass humour that you're supposed to laugh at if you want to be considered sane?

Do you wish for a film that has real characters -- not perfect bodies -- that you can really connect to?

Then The Secret Life of Walter Mitty is just the thing for you.

Walter Mitty (Ben Stiller) is an average person with an average job but a wild imagination.

Mitty works at Life magazine and is in the negative assessment department. Sean O'Connell (Sean Penn) is a photographer he really looks up to.

Mitty's world is turned upside down when Life is bought over by another company which wants to turn it into a dotcom venture. The trouble begins when Sean sends Walter a roll of negatives, mentioning that number 25 be used as the cover for the last issue of the magazine.

However, negative number 25 does not exist.
Mitty must produce negative number 25 or lose the job he needs to support his retired mother and struggling performance artist sister.

This leaves Mitty with only one choice -- to follow the elusive Sean all over the world and track him down to find the missing negative; and somewhere along the line, Walter Mitty's reality becomes wilder than his imagination.

The Secret Life of Walter Mitty does not promise a happy ending where everything becomes magically alright. But it does promise you happiness.

Strangely well cast with an even stranger choice of director (Ben Stiller), the film features some seriously subtle yet perfectly powerful performances by a cast you usually only see in comedies.

The Secret Life of Walter Mitty might face some criticism for not being as darkly humorous as the original text but it is important to understand that while literature and cinema essentially perform the same function -- that is, storytelling -- they are still very different mediums.

The Secret Life of Walter Mitty features crisp comedy in both dialouges and situations. It is funny enough but not too funny, so as to act as a distraction from the emotions that the film is trying to put across.

The film's soundtrack features the likes of Hall and Oats and Monsters and Men while remaining heavily dominated by Jose Gonzalez. All In all, the background score sounds like stuff from the iPod of that really cool kid, who sits on the last bench and hands out pieces of wisdom every now and then while smoking a home-rolled joint.

Beautifully shot and easy on the eyes, The Secret Life of Walter Mitty is thoroughly engaging. Never before have I seen a room full of some of the sternest critics in town refusing to leave their seats, expecting more as the titles begin to roll in.

Although you do end up guessing the twists in the tale, it doesn't disappoint. The Secret Life of Walter Mitty is not about calculating Walter's next step, its about sharing a mesmerising, unexpected journey.

The Secret Life of Walter Mitty is the triumph of the human spirit over human existence.

Rediff Rating: