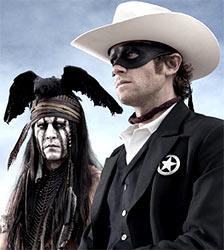 The Lone Ranger does provide more than a handful laughs but takes too long to get to the point, making you wish you'd left it alone, writes Paloma Sharma.

The Lone Ranger, director Gore Verbinski's next after Rango, takes you back to the days of the Wild West when rail roads were flourishing, silver was being discovered and Native Americans were being massacred all over the place.

While Armie Hammer stars in the title role, it is Johnny Depp as Tonto who clearly steals the show.

The Lone Ranger opens in the year 1933, with a young lad chancing upon Tonto, an elderly Comanche warrior, in an exhibition showcasing the remnants of the Wild West. Five minutes into the film and Tonto has already gone into flashback, narrating his adventures to the boy. This is a good sign about the pace of the film, one would think, but no.

Tonto tells his young listener about the year 1869, when Butch Cavendish, a notorious outlaw, is being transported from San Francisco to Colby, Texas to be executed under the watchful eye Texas Ranger Dan Reid. Tonto is Butch Cavendish's co-prisoner.

On the same train, along with a couple of dozen singing Presbyterian travelers, is Dan Reid's young brother, John Reid.

John Reid is your average uptight lawyer, vigilante justice opposer and all round good guy. However, when Cavendish's gang hijack the train to break him out, little does John Reid know that his life is about to be changed forever.

In a slightly predictable turn of often hilarious events, John Reid and Tonto must join forces to bring down their common enemy -- Butch Cavendish -- lest their guilty conscious haunt them forever.

There has been a fair amount of controversy around the producers, i.e. Disney, choosing Johnny Depp to portray a Comanche character. But he and his bird's deadpan comedy is what really saves the 149 minute film. Armed with well-timed wit and a wicked smirk (Captain Jack Sparrow, anyone?), Depp keeps The Lone Ranger from becoming a drag.

Armie Hammer plays a refreshingly different masked hero, one who is charmingly awkward about his new profession, but eventually gets sucked into the rut of being 'the man'.
Helena Bonham Carter is the one to watch out for as a one-legged madam with flaming red hair you just can't miss!

Hans Zimmer, the composer for The Lone Ranger, does a pretty good job of taking you back in time. That catchy, Loony Toon-sy tune (William Tell Overture?) might have been done a billion times before in a zillion movies/cartoons/advertisements but it sure does seem to work its evergreen magic all over again.

Special Features: There are two ways of looking at The Lone Ranger -- either one can see the typical train-stunts, treasure valleys and other plot devices as a tribute to the cult-status Westerns (Mackenna's Gold, for one) or one can see them, much like I do, as heavily borrowed clichés. The Lone Ranger provides enough fodder for action maniacs to keep them satisfied for weeks. The stunts involve large, out of control locomotives, trigger-happy bandits, a white horse, a possibly demented Comanche and one very angry madam.

Although the film has a promising start, it becomes a tad tiring after the first 30 minutes and the adrenaline only soars right at the end, in the final, and if I may say so, brilliantly choreographed action sequence.

The level of gore in one certain scene where Butch Cavendish eats a raw, beating human heart does make one wonder why the film was awarded a U/A certificate. The presence of the leading lady of the film would have been almost completely ignorable had she not handed a gun to her seven/eight year old son to hold another man hostage. Stereotypes are sprinkled all over like chocolate chips on your favourite cookie. The plot becomes predicable at points, although the effort of the makers to keep it fresh is entirely too visible - which might act as a turn off for some viewers. But if you're in for a masala entertainer without the usual loopholes in the plot, this is what you've been looking for.

All in all, The Lone Ranger does provide more than a handful laughs but takes too long to get to the point, making you wish you'd left it alone.

Rediff Rating: