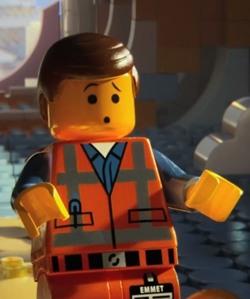 'There is not one boring moment in this film.'

'Having the means to and not taking your child to watch the film will be considered parental harassment, warns Paloma Sharma after watching The Lego Movie.

I've never loved a marketing gimmick so much!

Perhaps that's because none of the earlier product-peddling exercises have actually respected the buyers' mental faculties and put in an effort to make a film instead of a two-hour advertisement.

Phil Lord and Chris Miller co-write and direct this computer animated adventure to perfection.

Based on a line of toys that will be released in market along with the film, The Lego Movie follows the story of Emmet (Chris Pratt), an average mini-figure who becomes the victim of mistaken identity.

Due to a series of predictable yet thoroughly enjoyable events, Emmet is falsely hailed as the Special -- the prophesised messiah of the Lego Universe -- who, it is claimed, will save the world with his mastery over building skills and the power of his imagination.

However, Emmet does not have much of an imagination when he begins his journey with the help of Wyldstyle (Elizabeth Banks), Uni-Kitty (Alison Brie), Metal Beard (Nick Offerman) and an elderly wizard, Vitruvius (Morgan Freeman).

Emmet must clear his mind and forget the rules and regulations he has learnt in order to utilise his imagination to its full potential.

It is the only way he will be able to defeat the diabolic Lord Business (Will Ferrell), who has a rabid obsession with breaking down everything in the Lego Universe and gluing it back (belch) as he sees fit.

If The Lego Movie were a single word it would be this -- FUN!

There is not one boring moment in this film.

Armed with a refreshingly bright colour palate, a peppy soundtrack and dialogues that will constantly tickle your funny bone, The Lego Movie makes for the perfect family watching experience.

Not only is it exceptionally well voice-cast but it also manages to go beyond being just a children's film, deconstruct commercial cinema of our day and age and transform itself into some pretty hard-hitting
satire.
It's like the
Matrix
trilogy.
But for kids.
Kind of.
The Lego Movie
is the ultimate family treat. It's a relief to be able to watch cinema that is not exactly dead in the head, with company.
The film delivers a strong message about the unlearning of (rigid) instructions and the power of human imagination. While this may be unsettling for more orthodox folks and institutions, it is important for the younger generation.
The Lego Movie
features a motley crew of characters, my favourite being Batman (Will Arnett).
Lego's Batman will make you forget that someone called Christopher Nolan ever existed. Despite this being primarily a children's film, Batman here is a lot less friendly, but a lot more fun.
Available in 2D as well,
The Lego Movie
justifies its use of 3D -- the format that has become a rage among big production houses -- by indulging in some deliciously done animation. Every aspect has been meticulously worked over. You cannot help but be in awe of the genius of both Lord and Miller.
Everything is made out of Lego pieces -- even water! The attention to detail is astounding. The only reason you can't wait for the film to end is because you want to go home and try your hand at building something equally stunning.
If you are:
a) A child whose parents have had the good sense to shut down the idiot box and hand you some building blocks
b) An adult who's had the good sense to shut down the idiot box and preserve your building blocks
c) Bored/disenchanted with life/single and suicidal on Valentine's weekend
Then watching
The Lego Movie
is just what you need.
Warning: Having the means to and not taking your child to watch
The Lego Movie
will be considered parental harassment -- Issued in Public Interest.
Rediff Rating: