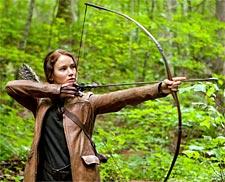 Director Gary Ross introduces dramatic twists and turns that involve you from time to time, writes Shaikh Ayaz.
Grounded very much in the gladiatorial tradition,
The Hunger Games
makes a barbaric reality show out of its vulnerable contestants among whom only one gets to walk out free – and alive. It plays out, not for the amusement of its game-makers, but for what the prologue suggests to be for reasons of honour, courage and sacrifice. "This is how we remember the past. This is how we safeguard our future," a voice booms, as teenagers line up from district 12 of Panem for the Annual Hunger Games. A male and female each will be chosen from an unlucky lot and sent as a 'tribute' to a forest where they would be joined by other such 'tributes' in a fight-to-finish combat ( a la
The Condemned
). Their fate is in the hands of a tyrannical regime which has set up this game to punish the citizenry of their resistance attempts of the past.
When Prim Everdeen's name is announced as a 'tribute', her elder sister, Katniss (Jennifer Lawrence) volunteers to go in her place. Peeta (Josh Hutcherson), who has had a crush on Katniss and has secretly followed her in the district, accompanies her on the mission. In a
Bigg Boss
-like introduction ceremony, Katniss and Peeta are given a rousing welcome as their chariot blazes down, instantly making her a crowd favourite. Before the contestants are turned loose in the forest, which is under 24/7
camera surveillance tracking their every move, they are taken through a crash course on hunting, survival skills and other forms of training. But it is in the forest that they realise it's not just the survival of the fittest, but of the meanest. As the film navigates through deaths, stealthy attacks, fire, infections and wild beasts, stage-managed by the high-tech studio control rooms (
The Truman Show,
anyone?), Katniss clutches on to her mockingjay lucky charm, determined to turn the odds in her favour.
As a stiff but determined country girl who captures Panem's imagination, Jennifer Lawrence makes the film rely on her. Through the way, director Gary Ross introduces dramatic twists and turns (for instance, suspending the 'one victor' policy, then retaining it) that involve you from time to time. Ross works with the same raw material, here, as probably a reality show director would in programmes like
Survivor
or
Fear Factor
. For most part, he appears in total control, save for the lovey-dovey moments between Katniss and Peeta, which impede upon the carefully-built suspense.
There is, in fact, a scene in which the Panem public, distraught at the mayhem and killings in the game, take to violence. It would have been wonderful to see Katniss' victory empowering the citizenry to overturn the autocratic empire and put an end to the oppression. That would be cliché but more heroic an end, indeed.
Rediff Rating: