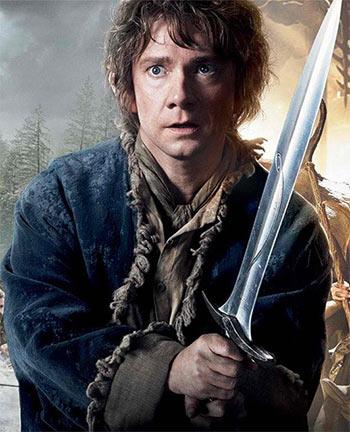 The Hobbit: The Battle of the Five Armies will perhaps be best enjoyed by those who have not yet read JRR Tolkien's prequel to the Lord of the Rings series, says Paloma Sharma.

Peter Jackson's last and shortest installment of a three-film series (with a run time of almost three hours per film) is based on a book of no more than 300-odd pages, The Hobbit: The Battle of the Five Armies.
The film picks up where its predecessor, The Hobbit: The Desolation of Smaug left off.

Woken up by the company of Thorin Oakenshield, Smaug flies off in a rage to destroy Lake Town, where he meets his end.

With the dragon dead, it isn't only the ravens who decide to return to the Lonely Mountain. Armies of elves, men and orcs look towards it not only for its gold but also its strategic position.

Meanwhile, Thorin, who has now taken his rightful place as king, has developed the Dragon Sickness. The gold has poisoned his mind and he cares for nothing but treasure.

An ancient evil is rising and if the King Under the Mountain does not stand up to it, it could lead to the destruction of not only his kin, but of all Middle Earth.

Perhaps The Hobbit: Battle of the Five Armies will be best enjoyed by those who have not yet read (read: obsessed over) Tolkien's prequel to his Lord of the Rings series.
The first two Hobbit films were, for all their faults, high voltage, fast moving, and fiercely witty pieces of Middle Earth lore told in the grandest way possible.

The Battle of the Five Armies is none of that.

It is understandable that the concluding film would be darker than the other two, but that does not imply that it is acceptable for the first half to make for such terribly tiresome viewing.

Anybody even remotely familiar with Jackson's filmography knows the director's undying passion for elaborate battle sequences.

And to be fair, he executes them well. But it seems like he was so focused on them that he ended up neglecting everything else.

The first half of the film feels like it was forcefully put in place so that the director could rush over to the second half and finally get to do what he does best.

The Hobbit: The Battle of the Five Armies is grand, yes, but sans the kind of substance that one expects to see backing up such grandeur.

It couldn't have been easy to make three films on such a massive scale based on such a tiny book.

Looking back, the cracks were always there. But there was a lot going on that covered them up.

Now, as the trilogy comes to its conclusion, the story has begun to part from under the franchise's feet and these feeble fracture lines have turned into gaping ravines.
The first half of The Hobbit: The Battle of the Five Armies is essentially Richard Armitage's show.

As fans would already know, the battle will decide the fate of Thorin Oakenshield. However, it is only Armitage who can make you pity and despise the King Under the Mountain as he goes insane with greed. The scenes between him and Martin Freeman's Bilbo Baggins are particularly touching.

The second half belongs to Legolas (Orlando Bloom). The elven prince, whose role in the film is meatier than that in the book, has some of the best action scenes and a whole lot of cool stuff to do. One secretly wonders if it is the first step to a Legolas-centred spin-off that might come out in the near future.

Galadriel (Cate Blanchette) is forced back into the series.

As is Smaug (Benedict Cumberbatch). Carrying the death of Smaug the Magnificent over to the third film completely reduced its importance as a plot point and ended up in the film beginning as abruptly as the previous one ended.

The Tolkien story did not feature female leads such as Galadriel and Peter Jackson's own creation, Tauriel (Evangeline Lilly). Funny thing is, despite both women being powerful warriors in their own right, they always need one of the male characters, usually their suitors, to come rescue them.

The Battle of the Five Armies features an amazing background score. The production quality remains top-notch as do the special effects.

You don't realise the need for 3D until the second half begins, especially until you watch Thorin and Azog the Defiler (Manu Bennett). The battle sequences are so awe-inspiring that you'll be surprised how something this good doesn't contain any calories.

However, because the first half fails to engage you, you come out only partially satisfied.

There are moments in the film when you feel like The Hobbit's signature brand of humour is emerging slowly but is not frequent enough to build a strong base for quotable quotes and memorable dialogue.

The Battle of the Five Armies will be better enjoyed by those who either have not read the book or prefer to read fan fiction. It definitely isn't for those who have memorised every detail of Middle Earth literature.

The Hobbit: The Battle of the Five Armies is the most unspectacular in the series and it makes you thank your stars that it is the last one.

Rediff Rating: