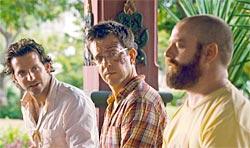 Shaikh Ayaz says The Hangover Part 2 is not really a step up from its predecessor but it's Zach Galifianakis' show all the way. Post YOUR reviews here!
If
The Hangover
were blood brothers separated at birth, they miraculously grew up in different continents: one in Las Vegas, another in Bangkok. Which is to say
The Hangover
sequel plays on an almost identical note to the first part, so much so that it appears more conjoined than a companion piece.
The only new introduction is the cigarette-smoking, drug-peddling monkey, pointing towards some sort of monkey business this Alan-land's inhabitants seem to be up to. 
The sin city that Bangkok is developing into makes it a perfect playground for the wolf pack that returns after their fun-soaked night of debauchery in Vegas. Stu (Ed Helms), the dentist from the first film, is a groom-to-be who's getting married on an island. Best pals Phil (Bradley Cooper) and Doug (Justin Bartha) tag along but not without dragging Alan (Zach Galifianakis) from his 'Genius at Work' cubbyhole. One last drink before calling it a day turns out to be just too much to ask for, as they wake up in a shabby Bangkok building the next morning. Too bad, they have a memory lapse about what went wrong last night but worst of all, they realise Stu's brother-in-law is missing.
For sequels to be built into a reputable property, it's imperative that a level of consistency is maintained. If you look at
The Godfather
films, the
Dollar Trilogy
or the
Bourne
series, what is central to them is that they improved as they went along and that's why they were able to create a distinctive stamp.  The
Hangover Part II
is not a step-up
in that sense. Filmmaker Todd Philips is beleaguered with mediocre writing. Because of that you mostly laugh on situations than actual dialogue. It is, then, left to the actors to grapple with the predictability that the script offers them and the best way to recovery in such cases is to be spontaneous.
The combined effort of the mostly-male cast saves
The Hangover Part II
from descending into the disaster zone. Cooper looks raffish throughout and has an impish quality which he works to his advantage.  Helms' 'demon' drill is hilarious though why his father-in-law equates him to the bland, traditional white rice is crossword cryptic.
Yet again, Galifianakis leads from the front, despite being treated like an add-on. He's increasingly becoming a teddy bear-like presence in
The Hangover
films, at odds with society and often funny primarily because of that. It looks like Galifianakis is not acting; just
being.
His insanity distinguishes him from his saner friends making him one of the most endearing characters in films made anywhere. When he whines about losing his monkey while his compatriot is shot, the ease with which he gets disconnected from reality amusing himself instead with what may be minor concerns to you and me, you wish you were a psychologist and know more about Alan. It looks as if he's suffering from Asperger syndrome but if he applies his mind, he could turn out to be the most gifted amongst his buddies.
In Alan, there lay limitless possibilities. Rarely do characters become bigger than their films.
The Hangover
series is in grave danger of that. If Alan becomes a more marketable property than the stage on which he stands, wouldn't he overshadow
The Hangover
series?
PS: With America and Asia covered, where's the night-out next? Europe? Amsterdam?
Rediff Rating: