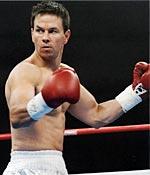 Ankur Pathak reviews The Fighter. Post YOUR reviews here!

When you go for a movie established on the sport of boxing, expect the fireworks as well as a host of cliches.

Based on a true story and appropriately fictionalised, David O Rossels's The Fighter narrates the story of "Irish" Micky Ward (Mark Wahlberg), who cannot boast about an accomplished inning in his boxing career, and blames his dysfunctional family for this.

The family includes a herd of long-haired, dim-witted sisters, an overly ambitious and visibly partial mother (Melissa Leo), who manages Micky's fight's and is fairly incompetent at it, and Dicky Ecklund (Christian Bale), Micky's half-brother, ex-boxer and current-junkie, who desperately tries to bask in the vanishing glory of having once struck Sugar Lay Leonard. He is also Micky's trainer.

What noticeably sets Scott Silver, Paul Tamsay and Eric Johnson's screenplay apart is the positioning of the situation. Other than defeating the opponent in the punching sphere, Micky Ward must also combat his inner demons. Here, Russell cleverly incorporates the working-class American family's trauma into the boxing ring, without emphasising much on the financial deficiency.

When the constant unstable methods of Dicky and the mother -- who seeks momentary monetary gain over and above the goodwill and advancement of her son's embarrassingly sagging career graph -- prove to be a major roadblock to Micky, he is shown to diverge from his focal-point into uncertainty. Here, Russell along with the film writers, employs the "lady-booster" technique wherein girlfriend Charlene (Amy Adams) re-ignites and assures Micky to ditch his inefficient family's equally stale methodologies, and look at the bigger picture.

Equipped with a fairly sufficient storyline, The Fighter scores because of its flawed yet intriguing characters who are so well-sketched, you begin to feel a part of their personal battles.

Micky can suck in all the punches, back to back so much so that the contender is rightly exhausted. This also metaphorically demonstrates the way the diffident Ward soaks in blows from everybody in his family though he has an opinion of his own. Walberg's Micky Ward is shyly reserved, self-effacing and a person who'd swallow the emotions rather than fight. And Mark enacts Micky Ward with remarkable ease, occasionally losing his cool.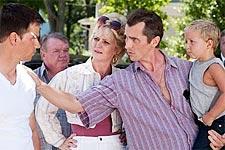 Christian Bale, as the partly lunatic, easy-going and fun-tempered Dicky is a stunner and deserves to be showered with awards. He slips into the loosened soul of a druggie as easily as he slipped into his superhero costume.

Another captivating performance is by the terrific Mellisa Leo, as the control freak mother. She is a treat to watch -- whether she's unabashedly abusing Charlene, or that expression she gets when she is told Micky doesn't want Dicky for a coach. Her desperation that converts into annoyance and finally settling on genuine concern is conveyed by her extraordinary performance.

Amy Adams continues to delight, as the uninhibitedly blunt Charlene, who is confident and courageous and plays a decisive role in Micky's career.  
Coursed with such enticing accurate enactments, which possess enough reason to pay this thumping court a visit, The Fighter is a winner even though some might accuse it to be too predictable.
Its greatness lies in its sheer earnest execution and the unusual addition of chaotic emotions that grip the family. Pamela Martin's editing is crisp and maintains a steady pace while the cinematography (Hoyte Van Hoytema) is uncompromisingly precise.
The winning proposition also lies in the fact that Micky's triumph isn't only bounded by the four-sided ropes; it disguises itself as a tool that also gets the seemingly impossible family together.
As is the case with most boxing-themed films, the sympathy toward the fighter is unquestionable and only natural. Be sure not to miss it.
Rediff Rating: