The only saving grace are Farhan Akhtar and Annu Kapoor, notes Urvi Parikh.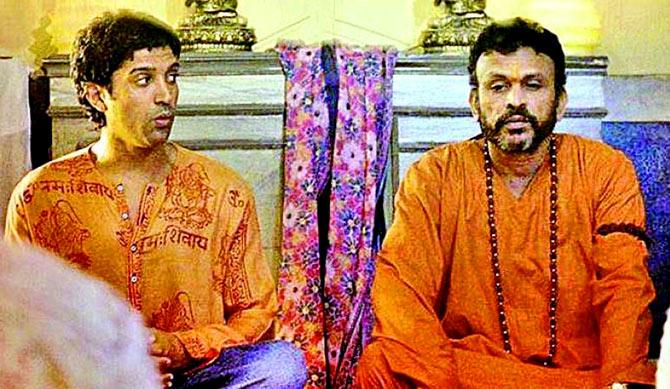 What would have been Farhan Akhtar's debut as an actor in 2009 finally saw the light of the day a decade later.
The Fakir Of Venice is about a hustler and a daily wage labourer.
While the plot is interesting, the makers failed in its execution.
Adi Merchant (Farhan) is a hustler in Mumbai. He works on assignments by providing whatever is asked for.
This time, he is told to arrange for a 'Fakir from India' who would become an 'object' in a Venetian artist's art installation.
Adi hires a daily wage labourer Sattar (Annu Kapoor), and the two become a unique attraction in Venice. What follows forms the crux of the film.
Director Anand Surapur has a good story to tell, but the treatment feels dated and stretched.
The screenplay feels jerky in places.
The camerawork and post-production is shoddy.
The only saving grace are Farhan and Annu.
Farhan portrays a Mumbaikar with ease and looks credible.
His act is supported well by the extremely talented Annu Kapoor who is vulnerable and strong.
Together, the duo manage to bring out some humour.
Kamal Sidhu, who plays Adi's girlfriend, has very little to do and disappears after a few scenes.
Despite shooting in picturesque Venice, Surapur is unable to capture the city's charm.
Venice remains a backdrop and that is heartbreaking.
Rediff Rating: