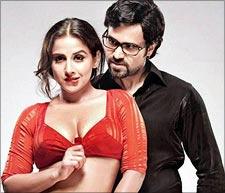 Sukanya Verma feels The Dirty Picture just draws an outline of Silk's character instead of painting a layered portrait but Vidya Balan makes it awe-inspiring with her performance.


The Dirty Picture
was always going to be a tricky proposition.
As the unofficial biopic of a famously erotic personality from showbiz, it has to acknowledge the vastly sexual nature of its subject. At the same time, exploiting this very attribute to explicitly titillate could mar its credibility. And that's where director Milan Luthria pulls off a masterstroke. He picks one of the most exciting, exquisite and exceptional actresses from the present to portray one of the most raunchy, rebellious, raciest sex symbols of the past.
There's remarkable relish and abandon in the manner Vidya Balan essays Silk, inspired by Southern siren Silk Smitha and her part-flamboyant, part-distressing journey from struggler to star to shadow.
The world has never been kind to sex symbols. The very idea of objectifying one's self in an industry run by lust and power driven men invites disapproval. But
The Dirty Picture
, set in the garish, (mostly) absurd 1980s, neither cringes at her choices nor condemns her audacity. On the contrary, it celebrates cleavage-dominated, over-the-top flamboyance and treats Silk like an unsung star of the aforesaid era, who happened before her time but struggled to gain respectability for flaunting her sensuality and promiscuity in a way that didn't conform to social perception.
That she employs it at whim as a self-seeking device, however, is conveyed rather confusingly in the narrative. On one occasion, she whacks a salacious chap for suggesting the illicit but promptly becomes the 501th fling of a dissipated superstar (Naseeruddin Shah) to get a shot at stardom.
In spite of the most ridiculous get-ups, Shah is most effective in conveying the smug, randy tone of his narcissistic old-timer. Even when, make that, especially when, playing to the gallery with lines like: '
Jawani to taste karne ke liye hoti hai, Waste karne ke liye nahi
' or tucking his tummy, only a tad embarrassed, after a bunch of photographers appeal, 'Sir, pet thoda andar.'  
The other two men in Silk's life -- Tusshar Kapoor and Emraan Hashmi -- do not possess the insights of Shah and prove to be the dullest links of Rajat Arora's boisterous and cluttered script. If Tusshar's feeble presence cannot be manned up by a thick moustache, Emraan's progression in the story to accommodate a maudlin love song, leads to
The Dirty Picture
's most
patchy, flimsy and prolonged third act. Silk's camaraderie with secondary characters -- Rajesh Sharma, as the supportive filmmaker and Anju Mahendru modeled around film journalist, Devyani Chaubal is much more fascinating.
And while Arora inundates the scenes with whistle-inducing dialogues typical to the bombastic decade, the screenplay lacks in purpose, subtext and detailed character development. The background behind Silk's strained relations with her mother or an out-of-context adolescent fan lusting after Silk are never truly established. Also grating is the moment when Silk launches a labored on-stage speech to lambast the double standards within the industry.
While on clamor, save for the superb usage of the rollicking Tamil ditty
Nakka Mukka
alongside Bappida's
Ooh la la
splendour, the background score goes about blaring senselessly without a cue.
As one appreciates Luthria's effort to authenticate the period by bringing in retro outfits, kitschy sets, vintage cameras, Maruti 800s and Premiere Padminis, minute slip-ups go unnoticed. Like how two minutes after crying sore about people who speak '
shoo shaa
English,' Vidya, herself, talks about India winning against West Indies at the World Cup in a diction, which makes it difficult to visualise her as, like the makers compel us to believe, down market. 
The Dirty Picture
, despite the comprehensive objectivity implied through its title, is not a full-fledged biopic. Instead of painting a layered portrait of Silk, it draws an outline of an unapologetic resident of a flesh-obsessed film industry responsible for her rise and ruin. But Vidya lends her so much transparency, aplomb and sauciness, the outcome is far more awe-inspiring than it deserves to be.
Whether she's cracking crude innuendos or bursting out of her tightly-fitted clothing to expose all those meticulously added calories, the actress, literally, puts her soul and body to embody Silk. In a world, where a majority of women obsess over a flat stomach above anything else, Vidya flaunts a protruding belly as though it didn't exist. Such commitment would impress anybody -- you, me. Tom Hanks?
In terms of creativity, it's a middling effort. But where bravado is concerned,
The Dirty Picture
kicks ass by virtue of three very strong reasons: Vidya Balan. Vidya Balan. Vidya Balan.
Rediff Rating:



Also Read: Review: The Dirty Picture is Vidya Balan's show all the way