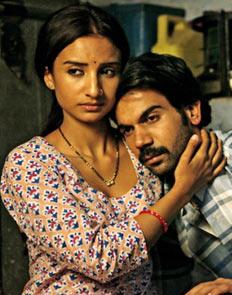 The album of Citylights starts with a superb track Muskurane, sounds like a potential instant hit, says Joginder Tuteja.
When a film has the Bhatt name attached to it, expectations soar.

Especially when it comes to film's soundtrack. For their new film Citylights, Jeet Gannguli has composed the music and Rashmi Singh is the lyricist.
The album starts with a superb track Muskurane which is very likable.
You can see Mukesh Bhatt's influence in the way Arijit Singh begins the rendition.

Bhatt has been responsible for at least one flagship number in the soundtrack of each of his films.
Here, he chooses the right combination of Jeet, Rashmi and Arijit for a beautiful love song which is lyrical and poetic with a lot of fluidity, Muskurane is also accompanied by an unplugged version by Mohammed Irfan, which is equally enjoyable.
The opening of Darbadar is really interesting. Neeti Mohan gets to do a solo and she does it well.

However, the track is a sad one and it's too early in the album for such a mood.
There is a strong influence of Bangla music in Ek Charraiya, with Arijit Singh. The singer modulates his voice well to suit the demands of the situation, but this one will not have the shelf-life of Muskurane.
Songs like this were popular in the Hrishikesh Mukherjee films of the 1970s, but while it suits the situation in the film, you don't want to hear it repeatedly.
Ustad Rashid Khan begins a semi-classical rendition for Citylights which has Usha Uthup's thumping vocals.
Rashmi Singh's lyrics present just the right mood of the film through this song which is a fusion of Indian classical and Western music. A theme-based number, it could well be heard at multiple points in the film's narrative.
Arijit Singh concludes the album with Soney Do, which is a slightly better song, though rather sad again.

In the same mould as Saawan Bairi from Commando, this one is a slow moving number that could well be appearing in the earlier part of the film when the protagonists are trying to make ends meet in the big city of Mumbai.
It's obvious that the Bhatts are trying to experiment and moving away from their usual style.

So it's ironical that the number that makes the biggest impression is Muskurane, which bears their signature sound.
Rediff Rating: