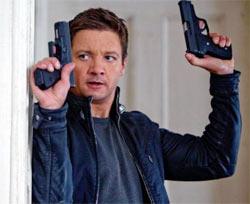 Matt Damon fans may miss the actor in The Bourne Legacy. Yet, the new film in the series is excellent, writes Shaikh Ayaz.
T
he Bourne Legacy
opens with a breathtaking shot of the Operation Outcome agent Aaron Cross (Jeremy Renner) in Alaska, popping a pill around a fire but quickly cuts out Cross to introduce a multitude of characters, some of who have no possible bearing on the consequences of the story.
For the first hour or so,
The Bourne Legacy
meanders aimlessly. There is an information overload that could throw even the most clued-in viewer off balance.
It travels from one continent to another without giving us any context, from cities as varied as Washington, DC and London and to Seoul and Karachi. We later learnt that the trigger-pullers of this mission -- to wipe out a breed of agents -- are calling the shots from their hi-tech chamber in Manhattan.
Much of the early scenes are spent capturing their desperate, hot-on-the-trail faces, as they tear their hair out in frustration, repeatedly flying into heated arguments over a hardball agent on the loose. Somehow everyone convinces in establishing their credentials as a patriot, that what they are doing is purely in national interest.
Till about this time, The Bourne Legacy, fourth part of the series that first began in 2002, plods along hopelessly.
The real thrill sets in when the absent Cross appears from nowhere, almost half way through to rescue the Outcome scientist Dr Marta (Rachel Weisz). It is from this point that The Bourne Legacy makes its presence felt and in no time, it establishes the intrigue and intelligence that the Bourne series is synonymous with today.
Among the followers of the Bourne series there must some disappointment at not having Matt Damon play their favourite spy, and understandably so. There are very few actors who bring as much charm and sincerity as Damon did to Jason Bourne. His presence is missed, which the makers try to fill in by showing Jason Bourne's picture now and then, in secret files and during a newscast.
Yet, it would be foolish to judge and value The Bourne Legacy for what it does not have. For what exists and what is there, it is an excellent film. And it must be said of Jeremy Renner that he is a marvellously alpha-male presence, ruggedly good-looking on the lines of Daniel Craig.
Do we still hear cries for Matt Damon?
Rediff Rating: