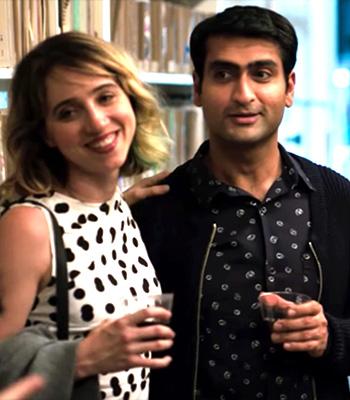 The Big Sick is packed with delicious details, moments and scenes that makes the film stand apart as a smart rom-com, says Aseem Chhabra.
What is it with desi stand-up comics in the US?
In the recent weeks, at least two of them -- Hasan Minhaj and Kumail Nanjiani -- have done more than just to make me laugh. They have also made me cry.
Minhaj was born in the US to Muslim parents from India.
Nanjiani arrived in the US in his teens from Pakistan.
They are second-generation immigrants (well, Nanjiani is not American born), who only know America as their home.
Yet, they are not embarrassed to talk about their upbringing, and how despite the obvious differences they are also Americans.
Minhaj (senior correspondent on The Daily Show) has a brilliant autographical show on Netflix Homecoming King. It's hilarious but actually brought tears to my eyes. Almost everyone I know who has watched the show has admitted it made him or her cry.
Now, Nanjiani is presenting his autobiographical film The Big Sick, which he co-scripted and his wife Emily V Gordon.
The audience award-winning film at this year's SXSW Film Festival opened last week in the US to glowing reviews.
Today, The Big Sick opens in India and fans of good American indie cinema should not miss this precious gem.
The Big Sick is not just funny.
It is one of the rare times I have seen such honest representation of South Asian immigrant life in the US in a film.
The heartwarming film is blessed with good writing, real life funny situations and an excellent cast that makes viewing it a special film going experience.
In the film, Nanjiani (playing himself) is struggling as a stand-up comic in Chicago when he notices Gordon (the lovely Zoe Kazan), who is in the audience and heckles at him in the middle of his act.
Afterwards, the two hang out at a bar and Nanjiani tries his regular pick-up trick with Gordon. He writes her name in Urdu on a napkin.
They end up in Nanjiani's apartment where he introduces another move that presumably helps him to have sex with his dates.
He shows Gordon a B-grade horror movie -- Night of the Living Dead.
While they are in bed, we learn about the characters and their backgrounds.
Nanjiani has small pox vaccination marks on his arm, since he was born in Pakistan, and he confesses he used to maintain a strange mop of hair and never smiled for photographs because he was inspired by Hugh Grant.
Gordon is training to becoming a therapist.
The Big Sick is packed with such delicious details, moments and scenes that makes the film stand apart as a smart rom-com.
No wonder Judd Apatow (The 40-Year-Old Virgin, Knocked-up) along with Barry Mendel (producer of Rushmore, Bridesmaid) came on board to produce it.
Nanjiani and Gordon start to date but she has no idea about his conservative Pakistani-American parents (Anupam Kher, along with the New York City-based actress Zenobia Shroff) who want their son to have an arranged marriage with a Pakistani girl.
Misunderstandings will test the couple's relationship and things get further complicated when Gordon lands in a hospital with a rare infection.
With Gordon in a coma (hence the film's title), Nanjiani reassesses their relationship, while also developing a bond with her parents (Ray Romano and Holly Hunter), who have driven in from North Carolina.
The pressure is on Nanjiani as he swims his way around his Pakistani-American life in the suburbs of Chicago, barely managing to balance the hospital situation and the demands of his stand-up career.
As his worlds get more complicated, Nanjiani finds himself withdrawn from his parents, although early on in the film he has told Gordon that he cannot lose his family.
It is remarkable that first-time filmmaker Michael Showalter, despite his extensive television work, never allows the film to get overtly sentimental.
Towards the end of the film, Anupam Kher (with a goatee that makes him look like Breaking Bad's Mike Ehrmantraut's doppelganger) and Nanjiani stand in the middle of a street, cars coming from both sides with a plastic box of mutton biryani in between them.
It is a perfect The Big Sick situation: Funny and a sensitively realised father-son scene.
Earlier on, Romano's Terry, after an argument with Beth (Hunter), sleeps on an air mattress in Nanjiani's bachelor pad.
Before they fall asleep, Terry has a confession to make -- he had once cheated on his wife. But he could not handle the guilt and ended up telling his wife about his lapse in judgment.
He says he was driven to tell the truth because of 'the clarity you get right after an orgasm.'
We do not know whether Gordon's father actually narrated that incident to Nanjiani, but Romano makes it look very believable.
Showalter gives that space to his actors to make the roles their own.
Romano, Hunter, Kher, Kazan and especially Nanjiani, with a lost goofy look, play their parts with a lot of love and affection for their characters.
They argue, fight, differ, but somehow their emotional and familial bonds stay intact.
Laughing with them is easy. It is okay to cry a little as well.
Rediff Rating: