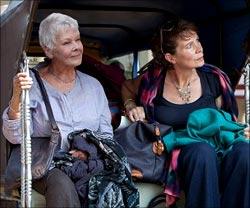 The Best Exotic Marigold Hotel comes alive with engaging perforamce by renowned veteran actors, writes Sukanya Verma.
The splendour of travel lies in discovery. Not just of a location but of the self, it's a relentless process and shouldn't be limited by age or circumstances. But in an ageist society, which is conditioned to treat the elderly as someone whose journey is drawing to a close, the resolution is rest not tour. John Madden's
The Best Exotic Marigold Hotel
sets itself around the possibility of the latter when seven British senior citizens embark towards their second coming-of-age in a country known for its soul and insight -- India.
Adapted from Deborah Moggach's novel
These Foolish Things
, the narrative with Evelyn (Judi Dench) as its nucleus revolves around Graham (Tom Wilkinson), Douglas (Bill Nighy), Jean (Penelope Wilton), Muriel (Maggie Smith) whereas Norman (Ronald Pickup) and Madge (Celia Imrie) lend the proceedings its lightest moments.
They're all attracted to the possibility of spending their retirement in an eponymous palatial abode in Jaipur (it's Udaipur, really) run by an ambitious young lad Sonny Kapoor (Dev Patel's idea of passionate is woefully high-strung), which like most promising catalogues turns out to be a rundown memory of its purported version.
While the soft spoken Evelyn is still coming to terms with the loss of her husband and seeking her own independent identity in a manner most restrained and unaffected, Graham seeks a long lost love from his growing up years in India, Douglas, the calm one and Jean, paranoia personified are not quite the married couple they used to be, the wheel-chair ridden Muriel is averse to everything that's not British while
Norman and Madge just want to be freed of their loneliness. 
It's an engaging albeit predictable premise. Only in films like
Under the Tuscan Sun
and
Eat, Pray, Love
, it's always a single, suffering heroine jetting off to a gorgeous destination, in a bid to get over her crumbling marriage or similar heartache, where she meets all sorts of oddball characters and the love of her life.  For all the charm and quirk it provides, you'll realise, depending on how much you truly know about the exotic location first-hand, how the representation is almost never accurate. 
And so there's something particularly discordant about watching Indians play the enduring stereotypes associated with them. Hyper Indians. Awestruck Indians. Overtly polite Indians.
Where even the domestic help and cycle rickshaw driver speak English Indians. In a rush-to-marry-off-her-son-to-a-girl-of-her-choice-Indians, dramatic-about-everything-Indians and there's a touch of Bollywood too courtesy Sonny's bombastic romance angle featuring a ravishing Tena Desae as Sunaina.
Madden, thankfully, doesn't overtly tread the touristy route, barring a brief stopover to release a bout of pretentious profundity, concentrating mostly on the regular, chaotic side of a fast-paced but alluring Rajasthani city. 
In the end, this movie isn't really about India, which although lends the plot a touch of pseudo exoticism doesn't shape the plot save for acting as a metaphor for pandemonium against which these characters discover themselves and a prized destination to rest in peace. What makes
The Best Exotic Marigold Hotel
worth its while is an exquisite cast of powerhouse veterans that engage, enthuse and inspire even when the script fails to do so.
Rediff Rating: