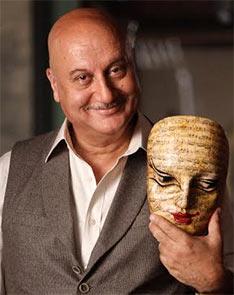 The Anupam Kher Show was everything it promised to be, notes Nishi Tiwari.
Talk shows on Indian television have had a dubious record.

Jeena Isi Ka Naam Hai was one of the few well-written shows to have ever aired. Its host Farooque Shaikh lent it rare elegance and dignity with his disposition and unassuming ways.

Simi Garewal's Rendezvous with film stars seemed more like a drawing room conversation with its overly indulgent tone, while the more recent Koffee With Karan suffered from more predictable afflictions. Its sole aim was to shock the viewer, and it did so with incriminating honesty, which isn't necessarily a good thing.
While there were some memorable moments, KWK is mostly remembered for its catty exchanges, sly digs at rivals and really lame attempts at unearthing scandals.

Then there was the Simi Garewal redux -- the cringeworthy India's Most Desirable. The less said about it, the better.

Farah Khan, Farhan Akhtar and Preity Zinta have also tried their hand at hosting shows with little success.

Now comes the turn of veteran actor Anupam Kher, who isn't really a novice at this particular TV show format.

Remember Say Na Something... To Anupam Uncle?

Well, he is back with a new chat show, called The Anupam Kher Show, only this time, he's interviewing Bollywood celebrities.

The inaugural episode that aired on Colors over the weekend was everything it promised to be.

In keeping with its Kucch Bhi Ho Sakta Hai tagline, the first guest Shah Rukh Khan shared quite a few lesser known facts from his life -- how he was adopted by his maternal grandmother and lived with her in Bangalore and Mangalore till the age of six, that she had named him Abdul Rehman, that he crashed in Aziz Mirza's office while doing a tiny role in Wagle Ki Duniya.

At the outset, it felt nothing short of momentous to be made privy to such privileged information.

But the sense of urgency in Anupam Kher's voice as he asks SRK questions disrupts the conversational tone a little too often.

It is, after all, just trying to deliver what it promised its viewers.

The one thing that really stuck out like a sore thumb was when Kher acknowledges the fact that it's insensitive to ask him about his parents' tragic demise and proceeds to ask anyway.

All said and done though, if this show keeps up its revelatory theme, it may go places.
The Anupam Kher Show will be telecast every Sunday at 8pm on Colors.

Rediff Rating: