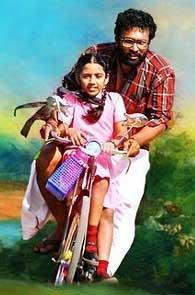 Thanga Meenkal is a heartwarming story told brilliantly with a simplicity and honesty that is seen so rarely in films these days, believes S Saraswathi.

Director Ram's Tamil directorial debut Kattradhu Thamizh received much critical acclaim for its original and hard-hitting content. Now the director is back with yet another brilliant emotional drama, Thanga Meenkal, a film that highlights the special bond shared by a father and his daughter.

Thanga Meenkal is jointly produced by Gautham Menon under his home banner, Photon Kathaas and J Satish Kumar, whose JSK Film Corporation, has been associated with films such as Bala's Paradesi and Naduvula Konjam Pakkatha Kaanom.

The film is set against the backdrop of the present-day education system and has the director himself playing the lead role, with Baby Sadhana essaying the role of his daughter. Television actress Shelly Kishore, Rohini, Padmapriya, Lizzy, Poo Ramu and Baby Sanjana play important roles in the film.

The film has been shot in a picture-perfect village surrounded by lush green hills, thick forest, flowing streams, and the sounds of birds mixed with the sound of the passing trains.

Chellama (Baby Sadhana) lives in this village with her doting father, Kalyani (director Ram), mother Vadivu (Shelly Kishore) and her grandparents Rohini and Poo Ramu. Though Kalyani's parents are very rich, Kalyani is a school dropout without any proper job or income, and is dependent on his father.

His daughter Chellama is the apple of his eye and there is absolutely nothing in the world he would not do for her.
Chellama's biggest problem is her school and her teachers. She is way behind the other students and often becomes the object of ridicule with both her teachers and classmates. This upsets her and she finds comfort only in the company of her father, who is patient and understanding and caters to her every whim.
A small argument with the school teacher, who refuses to allow his daughter to participate in a dance programme, results in a bigger disagreement at home with his father, who believes that Kalyani has spoiled his own life with his lazy ways and is doing the same with his daughter. An angry Kalyani walks out of the house, forced to leave behind his inconsolable daughter.
The honesty in the emotions depicted in this scene is truly heart wrenching. Every character in the film has played his part to perfection. Full credit goes to the director for bringing out the best in his team, be it the actors or the technicians.
Cinematographer Arbhinduu Saara has not only made memorable the breathtaking visuals of Wayanad, Cochin, Nagercoil and Achankoil, but has cleverly captured every joy and every tear of desperation of the characters.
Yuvan's music in Thanga Meenkal strikes the right chord, be it the beautiful songs or the haunting background music. The song Aanandha Yaazhai, picturised on the beautiful cloud-shrouded hills of Achankoil, on the father and daughter thoroughly enjoying themselves without a care in the world is unforgettable.
The lyrics of the First Last song, sung by Baby Sadhana and other child artists reflect the views of children everywhere who dread going to school and are terrified of their teachers and exams. Sadhana's antics in the song are sure to bring a smile on your face.
The picturesque village, the simple characters, their life, their joys, their frustrations and emotions are so naturally portrayed that at times you forget you are watching a film.
Thanga Meenkal undoubtedly makes it difficult to choose between Ram, the director, and Ram, the actor, both have done a truly splendid job. And one can definitely not forget Baby Sadhana, an eight-year old who effortlessly steals our heart with her endearing performance.
Director Ram's Thanga Meenkal is a heartwarming story told brilliantly with a simplicity and honesty that is seen so rarely in films these days.
Thanga Meenkal is totally worth it, definitely a must watch.
Stars: 4.0