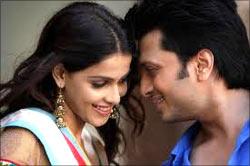 Tere Naal Love Ho Gaya has too much saccharine, otherwise it retains a frothy, smooth texture says Preeti Arora.

The story isn't exactly original or unique. Yet another romantic comedy,
Tere Naal Love Ho Gaya
is in many ways reminiscent of
Dil Hai Ki Manta Nahin,
and the more recent blockbuster
Jab We Met.

Director Mandeep Kumar's film manages to steer clear of major pitfalls. The twist in the tale is unpredictable. The first half even with a very limited screenplay keeps the viewer engaged. Two youngsters, each one desperately wanting to escape from parental pressures end up in tricky situations.
Viren (Ritesh Deshmukh) is an auto rickshaw driver who loses all his savings. Mini (Genelia) is the mischievous girl who needs to be married off in a hurry but none of the grooms presented to her meet with her approval. A kidnapping ensues with a slight difference: the kidnapper feels persecuted and the person being kidnapped seems to be having all the fun.
Just when it seems the narrative will finally lurch forward, the unexpected happens. Viren isn't who he appears to be. His crazy family provides some clean humour. Even as we wait for the eventual happy ending, fatigue never sets in. Quite a remarkable feat.
With any other lead pair, the film may not have worked so well. But between Ritesh and Genelia (now officially husband and wife in real life) there is an overabundance of chemistry. And these two create magic with their comic
timing, their casual offhand conversations and their manic gestures.
It's obvious that Ritesh Deshmukh, who has excelled in comic roles in Hey Babyy, Housefull etc, is making the big leap from being a small player in a big film to becoming a bankable 'romantic' hero. It remains to be seen whether he can sustain this performance with another actress. But with Genelia as his leading lady, he sails through.
And in the tradition of true herogiri, he doesn't hesitate to show off his biceps. Not too much, though, since the abs haven't developed all that much yet. He shamelessly imitates SRK in song-and-dance sequences, which is a pity because King Khan isn't a great dancer himself.
Genelia returns to her
Jaane Tu Ya Jaane Na
persona, the willful, spoilt, self-indulgent brat. Om Puri as Ritesh's father plays the local Haryanvi gangster. And Tinnu Anand plays the stressed out father-of-the -bride.
The serious flaw is the dialogues by Dhieyo Sandhu. Some are really funny but there are too many inane, trite, one-liners such as "When there is a dil, don't worry about the bill."
Veena Malik's item song is forced and completely out of place. Even her vital assets are more irritating than titillating.
Though the climax is breezy and fun, it's the 20-odd minutes before it, where emotions and tears have been ladled out in generous doses that is irritating. It's too much saccharine in a film which otherwise retains a frothy, smooth texture.
Rediff Ratings: