There is nothing in Tera Intezaar to keep you hooked.
Prasanna D Zore comes away unimpressed.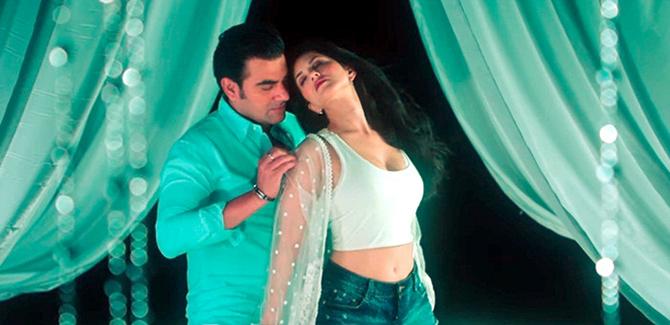 If Sunny Leone didn't star in this film, no one would probably notice Tera Intezaar.
This so-called thriller does not have a single moment to shake you up.
The 'story' goes thus: Sunny plays an art gallery owner who falls for painter Arbaaz Khan.
Her clients include Arya Babbar, Gauahar Khan, Salil Ankola and Bhani Singh. They are also the villains, but their acting will only make you laugh!
They like painter babu's paintings, but he ain't showing them the real stuff.
So they barge into his home unannounced, disturbing painter babu's romantic rendezvous.
Painter babu gets into Dabangg mode after Babbar hits Sunny senseless.
The scuffle ends with painter babu getting hit hard on the head and being hospitalised.
All this is a flashback, but it gives you a gist of how the film trudges along in this 120-minute torture.
Arbaaz has a twin brother whose car gets into an accident with the Funny Four after they have dumped the unconscious painter babu at the hospital.
The twin dies, but his aatma follows the Funny Four to his brother's home where they plan to steal his paintings.
The twin's aatma then leaves his body like a shooting star and seeks revenge against the Funny Four.
The film's special effects are so tacky -- I'll spare you the details -- that Doordarshan's 1980s serial Vikram Aur Betal's SE seems more polished in comparison.
Sunny's Raunak heaves and huffs for the first 15 minutes as she searches for her beloved painter babu who disappeared from her life after she fell unconscious at his bungalow.
She seeks solace, and her beloved, in the company of Sudha Chandran, an angelic ghostbuster, or whatever these people are called.
Arbaaz doesn't have much to do except to keep disappearing and reappearing through the movie.
Each time he does that, the director decides it's time for a song.
Tera Intezaar knows its fate at the box office.
There is nothing in the film to keep you hooked.
No story. No direction. No continuity. No dialogues. Nothing.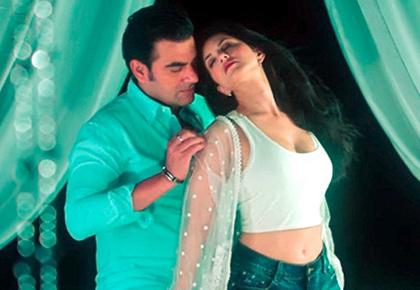 Rediff Rating: