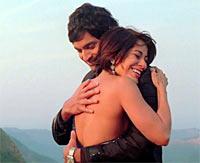 Raja Sen feels
10 Ml Love
has enough to offer for a good time.


Things only start warming up with the cuckold.
10 Ml Love
, a modern-day adaptation of Shakespeare's
A Midsummer Night's Dream
set around the events of a Mumbai wedding, starts off both pleasantly enough but feels mildly exasperating, as performers struggle with dialogues conceived in English that haven't quite lasted the jump to Hindi.
It all feels like watching a sub-par theatre company going through ambitious, if ill-conceived, motions.
And then pops up Rajat Kapoor, a bearded streetside shill, claiming to cure syphilis for a tenner, his very look putting the 'pot' in apothecary.
This ragtag version of The Bard's Oberon is convinced his pretty wife (Tisca Chopra) -- who is rather popular around the neighbourhood -- has many a lover tucked away. Now, in the hands of these performers, the language sputters to life, flavour ringing authentic as man-wife-mother-neighbour verbally snipe at each other.
And it is in these words, words seemingly from another age, that lie the film's charm. In the way spices are stored in old bottles of antacid, in the way the name Agra is meant to invoke the loony bin, in the casual stammering and scolding and the way women exaggeratedly gasp out the 'haw.'
Here we also find the film's finest line, sold to us by a strong actress with tiny screen-time but impressive, impactful screen presence called Rasika Duggal.
Playing a gossipy neighbour, she whinges about her neglectful husband's cricket-love, saying "
Mujhse byah kyon kiya, Irfan Pathan ko hi ghar le aate
." ("Why marry me and not just bring home Irfan Pathan?" It isn't a particularly amazing line, but Duggal knocks it out of the park, and the film appears to have turned a corner.
Unfortunately, despite interesting nuances, the same words flounder in the inexpert hands of the other principal characters like Purab Kohli, Neil Bhoopalam and Koel Purie (though Tara Sharma does a bang-up
job as the bratty heiress readying for both a wedding and an elopement.)
Each, however, comes across as likable enough in this film to avoid hampering the overall enjoyment.
And, as director Sharat Katariya inventively adapts this grandest of fairy-tales to a modern situation and setting, there are pleasures casually strewn around: quarrels are staged around a carwash, for example, and two women are getting facials as they break into a dramatically foul argument.
It doesn't always wash, of course, some scenes coming across as plain stupid, but between Rajat Kapoor and the finer moments most of the film goes down pretty swimmingly.
Right upto the final act, that is. After trying hard to fit a Midsummer plot from a forest to a wedding, despite it sometimes being quite a stretch, Katariya decides to wrap his film up disappointingly lazily, sending his cast abruptly into a, um, forest.
Once the titular potion is drunk, the film's setting and genre vanish and the cast runs around the woods, amateurishly looking for laughs and finding none.
The climax, arguably the most memorable part of the play, here ends up very poorly indeed. 'Tis a shame the film's makers decided, bizarrely, to stop adapting.
And yet, despite the cardinal sin of cocking up that most glorious of climaxes,
10 ml Love
has enough to offer for a good time.
It isn't a well-shot, crisply edited, intelligently staged piece of cinema, but is warmly enough made to allow the legendary play to shine through.
Actors like Chopra, Manu Rishi Chadha, Brijendra Kala and Kapoor (who even unexpectedly manages a poignant theatrical outburst at the end) make the film work, and Katariya, despite the film's obvious and numerous warts, does throw in much to smile at, and even to love.
Like a Punjabi father insisting his daughter's pre-wedding jitters can be assuaged by the miracle elixir that is soda with a pinch of rock salt. Priceless.
Rediff Rating: