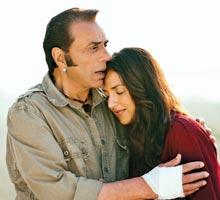 Preeti Arora feels Tell Me O Khuda is strictly for old-timers who could get a high seeing Dharmendra, Vinod Khanna and Rishi Kapoor in the same frame even if it is for just a few minutes 

Once in a while, a zealous filmmaker decides to break away from an existing formula and sets out to attempt something new. Considering that audiences in recent times have been bombarded with mindless slapstick comedies (being purportedly made for multiplex viewers) and even more inane Bollywoodised remakes of successful Hollywood blockbusters, audiences greet these productions with a fair amount of enthusiasm.
The joy is short-lived however. A serious issue has been trivialised and handled in a flippant fashion in Hema Malini's second directorial venture
Tell Me O Khuda.


Hema Malini believes herself to be a feminist of sorts. So she strongly believes the films she makes must have the ability to stir women into thinking for themselves. If this film were to be dubbed into English, the most appropriate title would be
'Messages In A Bottle'
(with due apologies to Nicholas Sparks).
Tell Me O Khuda
is all about Esha Deol, Esha Deol and still more Esha Deol. She plays Tanya, a hip-n-happening novelist whose trendy advice provides solace to women all over the countryside. Of course her maturity isn't built on a strong foundation. One blow and her confidence is shattered.
Tanya has just woken up to the fact that she is adopted, and is seized with the desire to know her biological parents. She will travel across the countryside or the globe to find them. And here begin her travails.
During the various stages of her journey, she tackles the issues of women's empowerment, female foeticide, male chauvinism, problems of landless peasants, psychological traumas suffered by women (particularly those who remain childless), and, of course, notorious criminals who can bump her off without a second thought.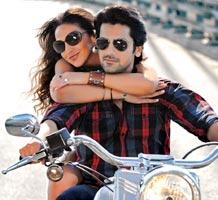 Through all these hurdles, Esha's wimpy smile remains intact. The grin turns moronic when she believes the person standing
in front of her is her biological father, and turns into a grimace when reality prevails. Two-and-a-half expressions in two-and-a-half hours. For a film that was created entirely as a vehicle to showcase Esha's acting skills, the script doesn't provide her with any opportunity to do so. Just a few pithy dialogues which make her look more like a college girl speaking at an elocution contest.
Thanks maybe to the amateurish storyline, Esha comes across as a juvenile delinquent rather than a young woman searching for her roots.
With a huge supporting cast comprising superstars of the 1960s, one expected the film to at least be engrossing in parts. The problem lies in the screenplay which doesn't give these veterans a chance to do much on screen.
Vinod Khanna is a feudal, aristocratic, landowner who ensures people living on his land are treated in a fair fashion. And he does nothing else for the few reels we see him on screen. Rishi Kapoor is a businessman passionately devoted to his wife. He allows his wife (played by Meltem Cumbul, a Turkish actress) to live in a world of fantasy, and while this may have been intended to create an air of pathos, it actually comes out as ridiculous.
Arjan Bajwa (Jai) is a romantic sidekick marginalised in the same manner as Shah Rukh Khan was in Hema Malini's debut film
Dil Aashna Hai.

The humour in the film is accidental rather than intended. Dharmendra plays an aging don (Anthony) who has lost out on a lot in life because he simply cannot give up on his criminal activities. Sporting a printed shirt and sideburns (vintage Bollywood) Dharmendra relives his past by bashing up the baddies. While his dialogue delivery remains as stilted as ever, he hams his way through the emotional scenes, providing some much-needed laughter.
Hema Malini appears in a brief cameo and it shouldn't be too difficult to figure out her role in this hodge-podge scenario.
This one is strictly for old-timers who could get a high seeing Dharmendra, Vinod Khanna and Rishi Kapoor in the same frame even if it is for just a few minutes. The rest would be happier watching Shah Rukh's antics in 3-D.
Rediff Rating: