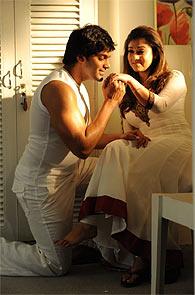 Debutant director Atlee's Raja Rani is a simple, refreshing tale about life, when we lose someone we love, feels S Saraswathi.

There has been a lot of media hype over the film, Raja Rani, starring Arya and Nayanthara.

Raja Rani has been directed by young debutant Atlee Kumar, who had previously worked with Shankar during the making of Enthiran.

Jai, Nazriya Nazim, Sathyaraj and Santhanam have important roles in the film.

The film's tagline declares, 'There is life after love failure. There is love after love failure' and this is exactly what Raja Rani is all about.

The story of Raja Rani revolves around John (Arya) and Regina (Nayanthara), who learn to live and love each other, after being forced to get married. Both have previously loved and lost and agree to get married only to keep their respective parents happy.

Preferring to hold on to their past life, both are often rude and hurtful to the other in an attempt to push them away. Regina tries to get herself transferred and wants to get out of the country, while John drinks himself senseless every night with his buddy Sarathy (Santhanam).

As the story progresses, John and Regina learn about each other's past love life and since both understand the pain and heartbreak of losing someone, they start to sympathize with the other.
But can they ever fall in love again?

Director Atlee has addressed this very contemporary issue in a very simple and refreshing manner without any undue fuss or theatrics. There are flashback sequences for both their love stories; Regina is in love with Surya (Jai) and John with Keerthana (Nazriya Nazim). Both Jai and Nazriya have given a good performance. Jai's meek and timid character in the film effectively complements Nayanthara's bold and daring one. Similarly, the fun and bubbly Nazriya and Arya too, make a terrific combination.

Nayanthara looks gorgeous and has given a great performance. Arya and Santhanam are entertaining.
The seasoned Sathyraj, who has been seen in a number of films recently, has yet again given an impressive performance as James, Regina's father. He is the patient, understanding and the ultra-cool dad every girl would love to have.

Music by G V Prakash in Raja Rani is lively and cheerful. The Hey Baby number and Angnyaade have become quite popular among youngsters. The film feels a little long and an edited version of the story would have been much more enjoyable.

Though there are many thought-provoking dialogues in the film, it also has many tired cliché ridden dialogues of how women are responsible for the driving men to drink.

Debutant director Atlee's Raja Rani is a simple refreshing tale about how to cope with life, when we lose someone we love. The film has a lot going for it and definitely succeeds in entertaining the audience.

Rediff Rating: