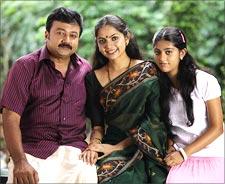 Paresh C Palicha feels Malayalam film Swapna Sanchari is a disaster
.
Writer K Gireesh Kumar's new film
Swapna Sanchari
, directed by Kamal and starring Jayaram, has the requisite
masala
ingredients.
Ajaychandran (Jayaram) is a typical village guy who leaves his secure government job to chase his Gulf dream. He makes it big there, builds a palatial house and sends his only daughter to a good school.
He starts a business and tries to gain the respect of the community by throwing his weight and money around, disregarding the wise counsel of his experienced father, Achuthan Nair (Innocent) and his sensible wife Rashmi (Samvrutha Sunil).
For the better part of the first half, we see the upward spiral in Ajaychandran's life. And, as expected, his downfall begins in
the second half.
What follows are deaths at a temple festival during the firework show, arm-twisting by the money-lending mafia, bogus land deals, unscrupulous politicians
et al.
Agreed that society is plagued by many ills, but must every second film preach to us about it?
Jayaram will not gain or lose much from this exercise. He has done worse films in recent times. Here at least, he has a crediblr character.
Samvrutha, on the other hand, seems to be given a raw deal. She plays the mother of a teenager who does not look much younger than her mother.

Salim Kumar has a sober role as a fish vendor and a friend of the hero who stays with him during the bad times.

This preachy film proves to be an overall disaster.

Rediff Rating: