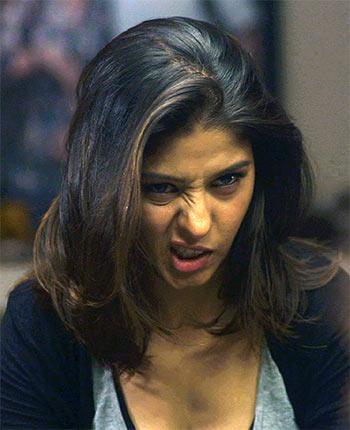 Sunidhi Chauhan impresses but Playing Priya doesn't, feels Namrata Thakker.
Sunidhi Chauhan makes her acting debut in a short film called Playing Priya, directed by Arif Ali. The film's run time is little over six minutes and is called an urban thriller.
Sunidhi is quite impressive, as she doesn't have too many dialogues, and yet manages to convey her feelings through her expressions.
She plays an urban wife, who finally gets some 'me' time after her husband and kids leave.
She is happy and breaks into song and dance. She makes faces in front of the mirror and is tempted to eat a piece of chocolate cake but ends up eating an ice cube instead. Relatable, isn't it?
Suddenly, Priya hears a sound, and panics. She sees the bedroom door knob turning, and hides.
What happens next is spooky.
While the twist in the story is unexpected, the movie ends abruptly.
There is just one surprise element in the film but it fails to hit you hard.
Sunidhi Chauhan can surely act but writer-director Arif Ali could have made this thriller crisper and more interesting. He should have played with the tagline -- Your home is not the safest place -- a bit more.
Sunidhi is the only highlight of Playing Priya.
Rediff Rating: