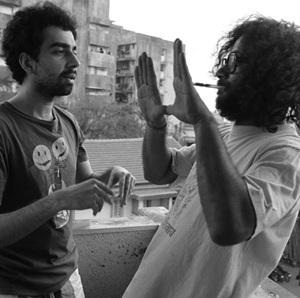 Sulemani Keeda is a delightful, unpretentious indie film, says Paloma Sharma.
There are two kinds of people in Mumbai -- there are the filmi ones and the rest.
Within this dubious section of the filmi ones, there are two further subdivisions -- the ones who live in the limelight and the rest who hover around it like flies buzzing over ripe fruit, trying to push their portfolio/mix tape/script to anyone who cares.
Mainak (Mayank Tewari) and Dulal (Naveen Kasturia) are two such flies.

Childhood friends from Delhi who came to Mumbai to become film writers, the debt-ridden duo divide their days between trying to get a foot in the doors of production houses and star homes, and hitting on women.
For a while, despite their lack of success or inability to pay rent, Dulal and Mainak are happy with the decisions they make (or avoid making) until they meet Ruma (Aditi Vasudev).
While Mainak's attempt to hit on her ends in disaster, Ruma and Dulal grow close quickly. However, Ruma, a corporate lawyer, is leaving the country in three days to get a Master's degree in photography.
Ruma's decision to follow her dreams makes Dulal question his own life's goals and just when they are about to stumble on their big break, cracks begin to appear between Dulal and Mainak.
Sulemani Keeda -- which is slang for pain in the rear (as one of Mainak's crude writings explain in the film) -- is slacker comedy at its best.
It fearlessly parodies the film industry that has repeatedly rejected films like it for more commercially viable projects.

That it got some of the established names in Bollywood, such as Mahesh Bhatt and Anil Sharma, to play themselves was the cherry on the cake.
Sulemani Keeda's greatest strength is its realistic characters and believable situations.

For any film lover who has spent more than a week in Mumbai, the caricatures of the different kinds of people you run into become instantly relatable and hilarious.
The film resists the temptation of providing either judgement or a safety net to its protagonists' bad decisions, instead letting things take their natural course.
That it was actually shot in Mumbai (the Mumbai which is not in Hong Kong or Singapore or Melbourne or Danny Boyle's imagination) only makes it more believable.

Sulemani Keeda could just as easily have been a story that involves the friend of a friend, as these things usually go, and it is that simplicity which makes it all the more endearing.
Mayank Tewari and Naveen Kasturia play the adorable on-screen losers so well that at the back of your mind you know that if you actually knew these people, you'd stay an arm's length away from them.

The duo's prowess as actors becomes obvious in a brilliant scene that depicts one of their writing sessions in black and white, without any words.
Every other actor in the film has clearly given it their 100% too -- from Krishna Singh Bisht's manchild Pokhriyal, Karan Mirchandani's cocaine-snorting, cat-loving Gonzo and the lovely Aditi Vasudev as Ruma.
Surjodeep Ghosh's effortlessly shot uncluttered frames perfectly complement debutant director Amit Masurkar's delightfully unorthodox screenplay and single-minded focus with which he guides the story.
Yet, despite its many merits, Sulemani Keeda is not perfect.

Although it has some soulful songs, the background score goes off key at times and the scenes don't always connect as well as they ideally should.
The film will obviously find a loyal audience in the urban youth who, upon finding no respite in television, have turned to the internet for some Hinglish entertainment they can connect with.
Finally an unpretentious indie, Sulemani Keeda, simply put, is by the filmis, of the filmis, and for everyone.

Rediff Rating: