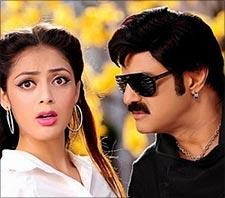 Radhika Rajamani feels that Srimannarayana's film subject is good but director Ravi Kumar Chavali has not paid enough attention to its execution

Director Ravi Kumar Chavali invariably picks contemporary socio-political themes for his films.
For the Telugu film Srimannarayana, he chooses the issue of scams, and the plight of farmers and weaves a story for the fight for justice by the lead protagonist.
As usual, he mixes this with popular ingredients such as songs, dances and action. This results in an absence of logic in quite a few places. The songs and dances are often a distraction.
Nandamuri Balakrishna plays the role of a journalist who takes exposes scams and wrongdoers and fights for the people.
Srimannarayana (Balakrishna), a television journalist, is an assertive guy and comes out with hard hitting stories exposing the misdeeds of Bail Reddy (J P Reddy), Pulakesava Reddy (Supreet) and Harshad (Suresh). Furious at Srimannarayana for the exposes that strip them of their money and reputation, the three vow to take revenge.
In the meantime, a kind of a love triangle is built up. Bhanu (Isha Chawla) is engaged to Sriman. Swapnika (Parvati Melton), who works for a rival TV channel, also falls in love with him.
Sriman's father, Kalki Narayana Murthy (Vijaykumar),
is mysteriously killed. Sriman is arrested and implicated in a money scam and his father's death.
While it's praiseworthy to take up issues such as scams and the plight of farmers, the film barely skims the surface of the problems and the Jai Kisan Trust seems rather utopian.
The hero is portrayed as larger than life, which is not how a journalist operates. A CBI enquiry is poorly depicted. Some of the incidents are unbelievable. It all seems too far-fetched and unrealistic.
Balakrishna has some punchy dialogues, which will delight his fans. Some other dialogues too are good.
The film has considerable violence. The female characters seem out of place and have nothing much to do. Parvati Melton looks thin but pretty and energetic on screen and carries her role well.
Isha too plays whatever little part she has, well. All the other character artistes were adequate
It's a Balakrishna film and he does justice to his role. If only the stylists could have paid better attention to his hairstyle and clothing!
The film is technically of a high standard with good production values.
The subject is good but the director has not paid enough attention to its execution.
Rediff Rating: