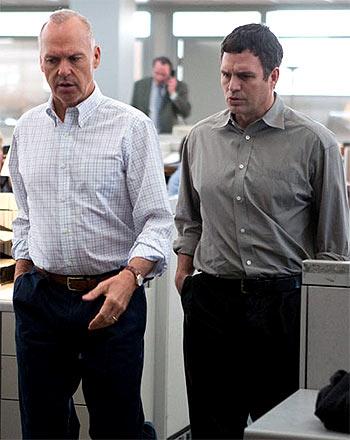 Spotlight is a powerful film, with a terrific ensemble cast, raves Raja Sen.
Journalism rarely looks as good as it does in American movies.
This, I assure you, is not because journalism isn't an essential or noble or brave profession.
It is every bit those things and more.
Yet the finest, truest bits of journalism -- the bits that topple governments, the bits that win Pulitzers, the bits that inspire generations -- are decidedly unglamorous.
They are moments of sweat and inspiration and assiduous fact-checking and beachcombing and persistence and doggedness, and it is this good old fashioned grind that keeps the presses rolling, that keeps the idealism alive.
The truth may eventually be sexy, but getting to it is frequently a slog.
It is this slog that Tom McCarthy captures so exquisitely in his taut, ice-cold Spotlight, a film about a group of real-life crusaders taking on a seriously sinister can of worms.
The film is named after one of those journalism ideas that sounds, like so many of them do today, too good to be true: a department made up of particularly intrepid reporters at The Boston Globe -- an all-star lineup of mavericks and lone-wolfs, banded together.
The film tells us how, in 2001, these fine men and women, with some prodding, uncovered an child abuse scandal endemic to the Catholic Archdiocese of Boston, and McCarthy cuts out all embellishment and makes us face the horror of the facts.
This approach makes for powerful viewing, with a terrific ensemble cast rolling up their sleeves and approaching a lead in that commonsensical way whence all great news stories are born.
McCarthy stays restrained and keeps a sharp focus -- and, impressively, never slides into flashback, or leans on manipulative visuals of creepy predators lurking around chapel shadows -- and his team appears to have done the real Spotlight journalists proud.
Boston is, as the film stresses, a singularly Catholic city, which is perhaps why the Spotlight team had to be pushed into action by an outsider.
The new Globe editor, Martin Baron, a Jew from Miami, is objective enough not to be awed by the Church or by Boston convention, and decides to 'sue the Church' to lift the seal on some documents, shocking the Spotlight squad before they, finally getting the scent, run with the challenging, daunting story.
The cast is superb, led by Michael Keaton as Spotlight chief Robby Robertson and Liev Schreiber as Marty Baron.
Keaton mines the experience and weariness in his face to create a shaky but compelling character who inspires belief and immediate respect, while Schreiber plays his part with marvellously little show, moving his bear-like eyebrows ever so slightly to convey desire or disinclination.
Rachel McAdams and Mark Ruffalo each demonstrate highly believable -- and dramatically different -- approaches to journalistic urgency, and, together with John Slattery and Brian d'Arcy James, these fine actors make a team well worth rooting for.
Perhaps the most integral performance in the film, however, comes from the attorney for the victims, Mitchell Garabedian, played by the redoubtable Stanley Tucci. Shoving salad into his mouth as he talks -- too busy to take a lunch break, or to get married -- Tucci personifies a man so single-mindedly obsessed with helping people he doesn't even bask in the triumph of the eventually printed page.
Life goes on, and his victims need help. (One of the most haunting moments in the narrative comes when an abused victim, a gay man, speaks of how he felt it was okay to be abused by a priest because he thought it meant the Church approved of his being gay.)
Nothing in this film leaps out at the viewer -- not the cinematography, not the editing, not even the lines, save for a few that resonate disturbingly in the head long after the end credits and a devastating post-script about the scandals uncovered eventually by the breaking of this one.
This is a film about beliefs shaken and stirred, and features one of the most memorable uses of a Christmas carol, one I find hard to stop thinking about. Silent Night may never sound the same again.
It surprised me how McCarthy employs such a meticulously undemonstrative approach with Spotlight -- there is enough attention to detail for this to be labelled a documentarian recreation -- and yet consistently shadows the narrative beats of Alan J Pakula's 1976 classic All The President's Men so faithfully.
In paying homage to that masterwork, Spotlight gains narrative heft but falls back on familiar footholds.
It is a film destined to be this generation's All The President's Men instead of setting a Spotlight for other films to aspire toward.
Yet this film shines for its determined eagerness to not shine.
In another parallel to the Watergate film, Spotlight has John Slattery playing Ben Bradlee Jr -- son of the editor Ben Bradlee who pushed President's Men leads Woodward and Bernstein harder and harder till their story was unimpeachable -- but the Watergate connection is never once mentioned.
It is, like so much in the film, rightly deemed extraneous.
Quite simply, it's not what needs to be pointed at.
Rediff Rating: