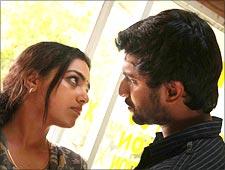 Pavithra Srinivasan feels Veppam starts off well but
fizzles out after a point
.
Post YOUR reviews here!
As expected from someone who worked first in ad films and later as associate director with Gautam Vasudev Menon in
Vettaiyadu Vilaiyadu
, Anjana's debut film
Veppam
(Heat) is certainly very chic. Together with cinematographer Om Prakash, she has crafted a film that is easy on the eye and possesses a style that reminds one of Gautam Menon himself. Photon Kathaa's
Veppam
(Heat), is a slickly made film.
The film kicks off with a determined-looking Revathy (Nithya Menen) walking down the beach, wading through the water and then sinking beneath the waves. Cut to a flashback of two young boys, their coughing mother, and her abusive husband Jothi (Shimmor), who couldn't care less about his wife's failing health.
The father's indifference and the mother's death pushes the boys much too early into the unforgiving world of adults. The elder, Balaji (Muthukumar) becomes everything to his younger brother Karthi (Nani). Vishnu (Karthik) is Karthi's best friend, and the two are always in the company of Revathy, whose father offers them odd jobs like painting hoardings.
For a while the story stagnates, trying to show the intimacy between all three with the help of Joshua Sridhar's songs. As melodious as these are, they don't really help the pace.
Then Vishnu bumps into Viji (Bindhu Madhavi), a sex worker, and for him it's love at first sight. Their romance track, accompanied by the song
Oru Devathai
is possibly among the best moments of the film.
The screenplay does try to bring in plenty of other characters, like the stereotypical female don Ammaji (Jennifer) who rules the roost. Sadly, she and many others never really make an impact. That, in fact, is the failing of the screenplay: at no point do you feel for the characters.
The film is supposed to be a realistic take on the rougher sections of the city, but the story never really draw you in and looks like an outsider's view of the city's underbelly.
It starts out with some promise but fizzles out after a point. Several plots confuse, story-lines overlap and much of our time is spent unraveling who's doing what at any given time.
Nani and Bindhu Madhavi, newcomers to Tamil films, do very well and manage to engage our interest. Nithya Menen has a very small role to play while Karthik plays to his strengths and doesn't really move out of his comfort zone. The rest of the cast is, truth be told, no great shakes.
Antony's editing is adequate though it could have been better in the second half. Mayan's art-work is realistic, bringing the scenes to life.
A tauter screenplay, more logic in the sequences and realistic dialogues would have made
Veppam
an eminently enjoyable film.
Rediff Rating
: