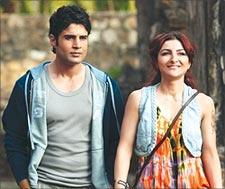 Shaikh Ayaz writes Soundtrack is ably supported by its cast. Post YOUR reviews here!

Just imagine what it would have been like for Beethoven who created music while being deaf or artists such as Claude Monet and Benode Behari Mukherjee who painted despite losing their eyesight? Neerav Ghosh's
Soundtrack
not only explores the dilemma of a creative man in the face of such a loss but also the thin schism between 'fact and fiction.' The 'fact and fiction' theory was put forth by American film critic Roger Ebert in his review of
It's All Gone Pete Tong
, the Canadian film from which
Soundtrack
is officially adapted.
Ghosh uses footage from real-life technicians like Anurag Kashyap, Anu Malik and DJ Aqeel alongside fictional characters to plot the life journey of DJ Raunak Kaul (Rajeev Khandelwal). When Raunak enters Mumbai, he spots a beggar with an exceptional gift for singing (the singing beggar has been a stock character in many Hindi movies before) and years later, makes him sing for his album. With the help of his genial uncle, he finds a job as a DJ at the club Tango Charlie and this is where he meets his producer/agent, Charlie (Mohan Kapoor) who initiates him into the La Dolce Vita-inspired world of wild parties, women, alcohol and drugs.
This is precisely where he fritters away his real talent. The quality of his music dips and at one point, he is nearly booed out by a disgruntled club crowd. More than being ambitious Raunak is afraid of failures and wonders if his life will replicate his father's; a great musician who died without any
fame and with only a boxful of records as his legacy. Raunak expresses his frustration in a particular scene when he suggests that he wished his father hadn't left behind the "legacy of failure." After Raunak is diagnosed of complete loss of hearing in one ear and partial, in another, he stays away from sound.
This phase of his life presents a contrast to the first, for he turns his back on excess to adopt a more frugal existence. He meets and falls in love with his lip-reading instructor Gauri (Soha Ali Khan). Raunak focuses on his craft and eventually comes up with an album that he creates in an absolute state of deafness. 
By and large,
Soundtrack
remains doggedly faithful to its source material and in such a scenario it becomes difficult to credit director Neerav Ghosh for everything. When directors usually remake a film that may have left a deep impression on them they bring in their personal touch and that's what distinguishes the remake from the original. Which brings us to a simple question: Had
Soundtrack
been as good if it wasn't adapted from
It's All Gone Pete Tong
? Another major setback for
Soundtrack
is that Raunak appears to be a minor speck in his contribution to music and that weakens the effect of a story which grandly projects him as a hero with handicap. Its impact would have been much stronger had the inspiration been Beethoven himself or other iconic figure in the musical history.
If you overlook that fact, on its own,
Soundtrack
is a watchable film, with able support from its cast and if Ghosh is to be credited for anything, let it be said that he has an eye for his material and knows where to look.
Rediff Rating: