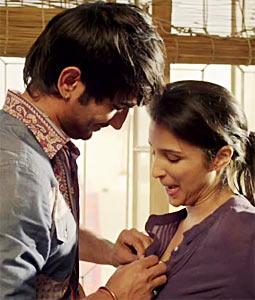 Shuddh Desi Romance conveys a simple but underrated philosophy in the most fun way possible, feels Sukanya Verma.

If everybody acted on the instincts they felt on the day of their wedding, it would result in a mass 'Shuddh Desi Romance' syndrome.

Call it nervousness, last-minute jitters or hesitation but the idea of going through an elaborate ceremony witnessed by a huge crowd of people you barely recognise (and is probably finding faults with your make-up) is no one's idea of everlasting bliss and triggers an unexplainable urge to run.

Writer Jaideep Sahni offers a perfectly logical explanation for this untimely panic attack, 'Doubt ghadee dekhkar thodina aate hai.'

Weddings are largely (and arguably) expensive, public spectacles of a private sentiment, which can be carried out even in its absence. Director Maneesh Sharma explores this space, wearing somewhat rose-tinted glasses, with his new romantic comedy, Shuddh Desi Romance.

Live-in relationships are not a novelty at Yash Raj. Films like Deewar (Amitabh Bachchan-Parveen Babi), Salaam Namaste (Saif Ali Khan-Preity Zinta) or Bachna Ae Haseeno (Ranbir Kapoor-Bipasha Basu) marked its presence in varying degree.

Only unlike Salaam Namaste, which is set in Australia and concerns itself with the difficulties and compromises of such arrangements, Shuddh Desi Romance unfolds in modern-day Jaipur (shot lavishly by Manu Anand) and maintains a tongue-in-cheek tone from start to finish.
Ironically, this is from a banner that's faced criticism for their glossy marriage-obsessed musical packages. With Shuddh Desi Romance, Yash Raj endorses a script that parodies the event if not the institution with Sahni's humorously-penned repartees and a set of perfectly cast actors.
The script bears an urban spirit but the earthiness of Sushant Singh Rajput, Parineeti Chopra and Vaani Kapoor and their comfort in slipping under Raghu, Gayatri and Tara's skin conceals many of its awkwardness or inadequacies.

They're perplexingly similar in so many ways -- easy on ambition, light-weight emotionality and quirky without warning. It makes their interactions both amusing and impersonal. And then comes that fascinating paradox challenging everything.

There is a crackling chemistry between Raghu and Gayatri, Raghu and Tara as well as Gayatri and Tara. They're the children of wild, unchecked impulses inhabiting a world where heartbreak doesn't mean end of the world and letting go is easily said, easily done.

If the troika represent an aversion for complying to a society-dictated commitment, Rishi Kapoor (resembling a breathing version of those rotund, turban-clad Seth dolls in the souvenir market) who runs a wedding business embodies the mechanical, mindless, money-minded side of celebration. The reliably keen Kapoor highlights the proceedings with his wonderful bouts of exasperation, pragmatic pearls of wisdom while dealing with his own growing insecurity at going out of business.

Sharma, who previously directed Band Baaja Baarat and Ladies Versus Ricky Bahl, shows admirable restraint in spelling out the distinction or the generally nonconformist (by Bollywood standards) lifestyle/outlook of his characters in unusual professions.

After a dynamic debut in Kai Po Che!, Rajput channelises his abundant energy to convey the childlike ineptitude of a man who wears his heart on a sleeve.

A radiant, coral/pearl ring clad Parineeti Chopra owns the scenes she features in by way of her effortless vulnerability and unaffected charm.

Their fresh-faced co-star Vaani Kapoor does well for herself in perhaps the most tricky role of the three with her sharp composure and bright, quick-witted smile that is, on occasions, as incisive as Sahni's words.

Are romantic sensibilities so dispensable? Are live-in relationships really that simplistic? Shuddh Desi Romance doesn't probe and goes a tad overboard with the mockery towards the end. But it sure points out at the pink elephant in our society.

At its 141 minutes running time (editing by Namrata Rao), there's never a dull moment in Sahni's penetrating jibes and whimsical trifling, which strives to convey a simple but underrated philosophy in the most fun way possible -- marry because you want to, not because you must.

Rediff Rating: