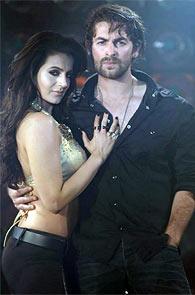 Shortcut Romeo makes up for loose ends and bizarre twists in the plot by means of sheer masala power, writes Paloma Sharma.

Director Susi Ganesh's maiden venture into Bollywood, Shortcut Romeo, seems like a slick, fast-pasted thriller on the surface. What lies beneath is a different story altogether.

Based on the director's own Tamil film, Thiruttu Payale, Shortcut Romeo brings together a motley crew of actors with a whole lot of spunk, if nothing else.

Suraj (Neil Nitin Mukesh) is a young and restless man with a destructive attitude and an insatiable greed for luxury. Exiled from his home after attacking his own brother, he arrives in Mumbai to seek shelter with his uncle, only to chance upon Monica (Ameesha Patel), a married-into-money memsahab, indulging in some intimate scenes with her lover on a golf course.

Why two people with enough reasons and resources to buy privacy would want to make out on a golf course where they can be easily caught remains a mystery -- a fetish perhaps, one wonders.

Either way, luck seems to favour Suraj, and he starts blackmailing her.
At this point in the story, Suraj decides to go to Kenya with his friends for a vacation where he meets Sherry (Puja Gupta), who magically turns out to be Indian too (as all beautiful girls Hindi film heroes encounter abroad are); and lo and behold, the unthinkable happens! Suraj falls in love with her. That's when things begin to go downhill, both for Suraj and the film itself.
While Suraj is caught in a lethal game of shadows with Monica, where no player is without a hidden ulterior motive, the director becomes obsessed with Kenya and its landscape. Shortcut Romeo almost turns into a state-sponsored tourism film about Kenya's wildlife and native people, albeit one sprinkled with a couple of Bollywood actors dancing around trees, inappropriately representing tribal cultures, etc etc (yawn.)
The film does, however, manage to get to the point and regain its pace in the last 30-45 minutes.
Packed with action and enough twists and turns to make your head go around, Shortcut Romeo might deliver a late climax but it is one packed with a powerful message.
Despite the promise that the film takes off with, the plot eventually starts losing its wings mid-way and you start to wish that there was a shortcut out of its 147 minute long run-time.
Neil Nitin Mukesh takes a cue from his Johnny Gaddar days and reminds us why he fits so well into the thriller genre, playing the small-time crook trying to hit a big jackpot with not much effort and a particularly diabolic glint in his eye.
Ameesha Patel gives him a run for his money when it comes to being pure evil. She does as she pleases, indulges in what catches her fancy and does away with those that dare stand in her way -- all with such enviable remorselessness.
Puja Gupta fits into her role snugly and plays her part well enough.
The surprise is Susi Ganesh himself showing up in the later half of the film. You'll recognise him the moment you hear him -- listen in for a thick accent.
Unfortunately, there isn't much else to listen into. The background score is mediocre and songs with dance sequences pop up at the most inappropriate of places, disrupting the already fragile narrative of the film.
Slowly but surely, Shortcut Romeo begins to look like a Rohit Shetty film attempting to (unsuccessfully) ape an Alfred Hitchcock movie. Stereotypes and age old formulas are generously added to the mixture.
However, the director does manage to redeem the film by revealing Suraj's scarred childhood and how it leads him to be the man he is today -- all in sepia-toned flashback, mind you.
Well shot, with laudable performances from Neil Nitin Mukesh and Ameesha Patel, Shortcut Romeo makes up for loose ends and bizarre twists in the plot by means of sheer masala power.
Rediff Review: