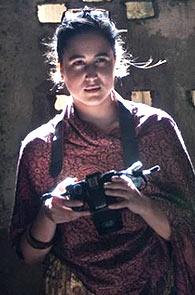 Ship Of Theseus is a sign of evolution in filmmaking, writes Sukanya Verma.

It feels like forever since a film, made in India, struck such a stimulating chord.

Ship of Theseus is that rare sensory experience, which reaches out with its sublime sights, surreal sound and spiritual scent.

Writer-Director Anand Gandhi explores the profound stretch between philosophy and science, temporary and infinite, part and whole to address the irony and duplexity of identity, ideology and ethics through the famous Theseus's paradox.

The riddle-like conundrum it poses is: if all its old parts were replaced by new ones would it still remain the same ship? And if all those discarded parts were assembled together would that then qualify as the original Ship of Theseus?

Creating a transcendent environment through its three largely independent stories, with only a running theme of organ transplant in common, Gandhi introduces us to its three key protagonists in turns before arriving to its glorious, masterstroke finale.

There's the extraordinarily lucent and intuitive Aida Elkashef as Aaliya, a visually-challenged Egyptian photographer with a gift for sensing photo opportunities in the most concealed areas.

She doesn't mind losing the details in her compelling monochrome compositions and commands complete authority over her art as emphasised over heated arguments with her live-in boyfriend. After regaining her eyesight, following a cornea transparent surgery, however, Aaliya begins to doubt her mastery over her craft.

In the second plot line, the focus shifts on Maitreya, a learned monk (Neeraj Kabi) belonging to a fictional sect and his legal endeavours to stop the mistreatment of animals in laboratories for testing and research. (Gandhi provides disturbing proof to highlight this cruelty with clinical composure.) But when he's diagnosed with a life threatening disease, wherein the treatment threatens his ideals, Maitreya's will-power is tested like never before.

And finally there's a money-minded stockbroker Navin, played by co-producer Sohum Shah, who's recently received a kidney transplant and discovers a sense of social responsibility by tracing a case of illegal transplant all the way to Sweden.

Though primarily set in Mumbai, Ship of Theseus converses in English, Arabic, Hindi and Swedish through its deftly-penned script by Gandhi, where language changes its tone and texture according to given setting

with remarkable fluency.

He sets his ambitious ideas on soul recycling around people we know or pass by, exchanges we've heard and participated in, around places we belong or are acquainted with but seldom, or perhaps never, visit on big screen. Visibly knowledgeable and fervid-viewed in spheres of philosophy and science, Gandhi contains any urge, if at all, to be didactic or impose his beliefs. Sure, he constructs all three key protagonists as cultivated souls within the parameters of their backdrops.

Sure, they engage in meaningful debates over ideology and the need for empathy towards society, environment and aesthetics. But, realisation, comes at its own pace, price and accord.

With serious intelligence comes sparkling clarity and Gandhi has it in abundance resulting in a lucid, genuine film that doesn't alienate but draws in its awed viewer.

Equally commendable is the 32-year-old filmmaker's pristinely original vision. Whether it's the unique, undiscovered locations he's picked to shoot in a city one foolishly believes has nothing new to offer or presenting the same old landmarks with a refreshing perspective, Gandhi recovers some of the long-lost Bombay (not Mumbai) in Ship of Theseus.

There's lots to appreciate about his cast of inspiring actors and friends who pitched in.

Shah conveys a world in his contemplative pauses. He doesn't have any hard-hitting lines. He doesn't need any. Amba Sanyal, as his grandmother, provides this well-rounded story with its impulses while Sameer Khurana, as his buddy lends SOT some rare occasions to chuckle.

Elkashef impresses with her unbridled spontaneity and expressiveness.

But it's Neeraj Kabi's mild-mannered but sharp wit (when he indulges young intern Charvaka (an earnest Vinay Shukla), staggering physical transformation and a performance that demonstrates such intrinsic connection/commitment towards the principles he's striving for that truly stands out as the best in this film and among the best this year.

And there's Pankaj Kumar's dazzling camerawork, shot on a Canon EOS-1D Mark IV, which is as alive and probing as the questions put forth by SOT.

There's no filtering to differentiate one story from the other except the shift of seasons -- winter, monsoon and summer and changing geography -- dingy lanes and cozy neighbourhood of Mumbai, majestic vistas of Himachal Pradesh and the stunning but secluded spots of Stockholm even as the soft-pedalled score lends in a mild, meditative ambiance.

Ship of Theseus is a sign of evolution in filmmaking, a work of art. I cannot award such artistry with mere stars. I can only hope it's a precedent not an exception and wish you go and watch it.