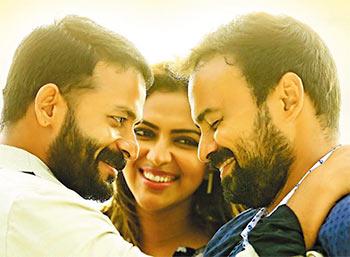 There's something missing in Shajahanum Pareekkuttiyum, feels Paresh C Palicha.
Boban Samuel promised us that Shajahanum Pareekkuttiyum, starring Jayasurya, Kunchakko Boban and Amala Paul, would be an entertainer.
But whether he succeeded in delivering the goods is highly debatable.
The story line is wafer thin. Jiya (Amala Paul) has short term memory loss after an automobile accident. She is engaged to Major Ravi (Aju Varghese) but she has forgotten all about it. When her personal diary is checked to help her regain her memory, there are references of a secret lover called P.
Here comes the entry of our two heroes -- Prince (Jayasurya) and Pranav (Kunchakko Boban). Both of them claim to be the mysterious P in Jiya's life.
Prince is a small-time thug and Pranav is a suave businessman.
The burden of inducing humour in the proceeding is shouldered by Aju Varghese, and his friend, Suraj Venjaramood. They succeed in creating some laughs once in a while but the overall situation is so jaded that it does not help.
The same goes for the leading men Jayasurya and Kunchakko Boban, who do not appear to be totally involved in the proceedings.
There are no inspired moments to pull the story forward either.
Amala Paul looks pretty and enjoys the attention she receives but cannot do anything exceptional to push the dull proceedings forward.
The mystery of P is solved in the end but the writing has the usual mandatory twists and turns. There's nothing unusual to hold the viewer's attention. There seems to be a missing element in the film.
On the whole, Shajahanum Pareekkuttiyum is a lackluster beginning to the festivities.
Rediff Rating: