The melodrama is too much, the pace is too slow and the second half is unbearable, says Urvi Parikh.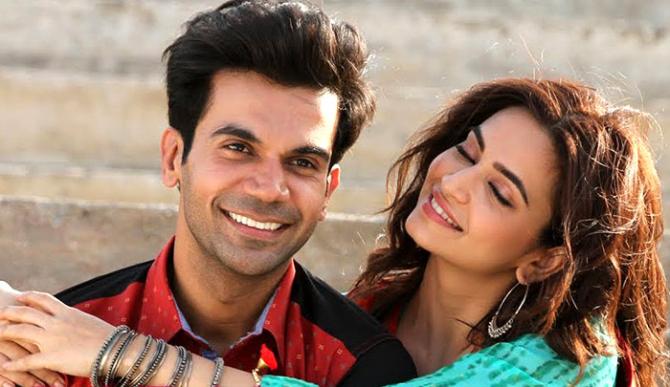 Lately, Bollywood has been making love stories that focus on social issues, leading into the ongoing debate on sexism.
Shaadi Mein Zaroor Aana is no different.
This love story, too, is entangled in the age old traditions of dowry and not allowing the daughters of the house to earn a living, like the sons do.
Rajkummar Rao aka Satyendra Mishra aka Sattu is a young bachelor from Kanpur, all set to begin his job as a government clerk.
Kriti Kharbanda, who plays Aarti Shukla, is an MA degree holder and wants a career, but is forced to get married by her father (Govind Namdeo).
Sattu and Aarti meet in an arranged marriage set up, start liking each other and agree to get married.
Since Sattu belongs to a well-to-do-family and has a government job, he is a prime catch in the marriage market.
His family asks for Rs 25 lakhs as dowry, which the girl's father agrees to solely because 'Acche ghar ke ladke itna toh maangte hi hai (A boy from a good family will ask for this much at least) despite the fact that his daughter is more educated and more capable than the boy.
While the marriage preparations are on in full swing, Aarti clears the PCS exam in her first attempt, making her eligible to become an IAS officer.
Aarti, who fears not being allowed to work after marriage, chooses her career and runs away, leaving Sattu heartbroken.
Cut to five years later, Aarti -- an IAS officer accused of taking bribes -- is grilled by the officer in charge of the case, the now well-groomed Satyendra Mishra.
Will Sattu avenge Aarti's betrayal? Will the two get together? That's what the rest of Shaadi Mein Zaroor Aana is about.
Director Ratnaa Sinha, who marks her debut with this film, starts off on a dull and predicatable note, giving us a deja vu of Badrinath Ki Dulhania. The not-so-capable boy falling in love with an ambitious girl, with the plot based in north India, is a story that has been done to death lately in Bollywood.
Sinha, unfortunately, has nothing new to offer.
In terms of music, the songs are on the tackier side and will appeal only to a niche audience. For the rest, it will just be melodramatically loud music.
While Rajkummar Rao does a good job as Satyendra Mishra, his act become repetitive after a point. It's annoying to watch such a talented actor restricted to wooing a woman. However, his charm is such that you cannot help but like him.
He does a fairly decent job in this sluggish tale.
Kriti Kharbanda as Aarti Shukla fits the bill. But the story is so weak and unbelievable in certain parts that you fail to connect with her character. She needs a better script to prove her mettle.
Nonetheless, she makes for a beautiful watch.
Together, the couple is a delight.
Sinha fails to create an impact with her story, which feels like a drag 15 minutes into the film.
The melodrama is too much, the pace is too slow and the second half is unbearable.
In fact, this movie will test the patience of quite a few cinegoers, who might be tempted to walk out anytime in the second half.
If I had to summarise the film in one sentence, it would be, 'Is shaadi mein mat jaana (Don't attend this wedding)!'
Rediff Rating: