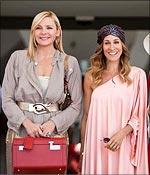 I may like my Cosmopolitans just as much as the next girl but a big fan of the
Sex and the City
franchise, I've never been.
Even if my loyalties lay with the more relatable and amusing six-some of boys 'n' girls at Central Perk, I'd occasionally head for the series to take pleasure in its almost possessed celebration of high-end fashion as well as its four unique perspectives towards the much tom-tommed adult word: S-E-X.
And while the hour-half HBO episodes about its four signature ladies -- Carrie Bradshaw (Sarah Jessica Parker), Kim Cattrall (Samantha Jones), Charlotte York Goldenblatt (Kristin Davies) and Miranda Hobbes (Cynthia Nixon) discussed the wows and woes of dating/relationships while living in, what is arguably, the world's most glamorous city -- New York, the big screen adaptations go overboard to be taken seriously as, well, a big screen movie. 
That explained Mexico in the first one. It is more than obvious with the inclusion of Abu Dhabi in the new one. What's with television-turned-movies and foreign locales anyway? Remember how Rugrats head to Paris while Lizzy McGuire flirts in Rome?  
It's as though the makers already admit the predictability of a much-seen, much-loved franchise and are more than willing to substitute it with gimmicks ranging from exotic tourism laced with offensive, ignorant cultural remarks or overdo the routine at Samantha's hyper-lusting expense.
Before it ambitions get Middle-East high, the Sex and the City sequel opens with Carrie gearing up to play Best Man at a same-sex wedding high on real-time swans in its decor, a choral group of Calvin Klien catalogue-hot cute boys and Liza Minnelli doing a one (and hopefully last)-of-its-kind Beyonce.
Clearly in the 40-50s, the girls (you better still call them that unless you want to evoke Samantha's wrath) are in this uncertain phase of their lives. Miranda, not so much -- unable to put up with her unbearably chauvinistic boss, she quits. Nixon, finally, gets to let her auburn hair down and she's quite a sight to stand despite her terribly side-lined on-screen existence.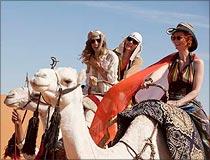 On the other hand, unsure what to do the others and their funny marriage/menopause situation -- Charlotte suspects her hubby and nanny are an item, Carrie and Mr Big want day-offs from each other while Samantha struggles to keep the right hormones kicking -- director Michael Patrick King sends them off on an all-expenses paid vacation to Abu Dhabi (it's actually Morocco) or the 'new Middle-East' as they keep addressing it in the movie.
From then onwards this nauseatingly decadent holiday resembles something as revolting as Indiana Jones's desert adventures in a skirt.  
No sex. Out of THE city, the film, in spite of its leading quartet's reliable charms, rambles on and on like those relentless servings of yam in Samantha's direction -- an ordeal not even the craziest fashionista would want to endure no matter how exciting the contents inside those numerous Dior and Louis Vuitton shopping bags.
The only time this fashion-fed farce is remotely entertaining is when Charlotte and Miranda engage into a Cosmopolitan-aided heart-to-heart or the script decides to focus on Samantha's hilarious appetite for love-making. 
The thing about Sex and the City is that while the twain remain constant, the women who raised to toast continue to celebrate the superficial -- clothes & cosmos -- as ever. Agreed, that's what everyone loves them for in the first place. But at the same time, encore even in its haute couture skin is not so much fun anymore.  
So while it's doubtful that they'll ever grow beyond the glamour, the curtains have to fall sometime. Like, how about, now?
Rediff Rating: