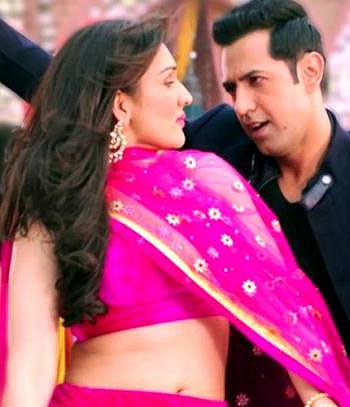 Second Hand Husband is entertaining in parts, says Nishi Tiwari.
Actor-singer Gippy Grewal had mentioned in an interview that he had attempted to make a content-driven comedy of Piku and Tanu Weds Manu Returns' calibre in his debut Hindi film Second Hand Husband.
Let's just say that Second Hand Husband may not be poised to break box office records but it does succeed in delivering the funnies every once in a while in the course of its runtime.

Also marking the Bollywood debut of Grewal's frequent collaborator (in Punjabi films like Bhaji in Problem and Carry On Jatta) director Smeep Kang and Govinda's daughter Tina Ahuja, Second Hand Husband employs the usual rom-com tropes that an average Hindi film of this genre thrives on.

The film conveys its Punjabi-ness with foot-thumping music, good-humoured characters, loud makeup and bright clothes.

Then there's a philandering husband (Dharmendra's Ajit) portrayed as an incorrigible (yet charming) man-child, his devoted wife (Rati Agnihotri) serving as a source of constant amusement, the hapless divorcee Rajbir (Grewal) desperately trying to get out of paying alimony to his ex-wife Neha (Geeta Basra), and his girlfriend, budding lawyer Gurpreet (Ahuja).

I mention the protagonists Grewal and Ahuja in the end because the film is anchored more by the supporting casts' performances and subplots than it is by the leads.

While Gippy Grewal is somewhat seamless yet mostly ineffective as the enterprising yet mild-mannered duty manager, debutante Tine Ahuja is stiff and stifled as his love interest.

Also, she's been given little screen time and material to work with, which invariably works in her (presumably daft) character's favour almost serendipitously.
To add to it, there's zero chemistry between the onscreen couple.
But those moments are too few and far between to stand out in the presence of relatively more entertaining turns of Dharmendra, comedy heavyweight Vijay Raaz (as a widower cop desperate for a second chance at companionship), and Geeta Basra, who is gorgeous and displays better comic timing than Ahuja.

Since this film comes from a predominantly Punjabi team, punches and running gags, even in their lack of novelty, are delivered with refreshing style unique to Punjabi actors and storytelling.

Second Hand Husband may not exactly knock your socks off like Piku and Tanu Weds Manu Returns did but it's a film devoid of pretences (if you can overlook the film's gender politics and certain continuity fails) that entertains in parts.
Rediff Rating: