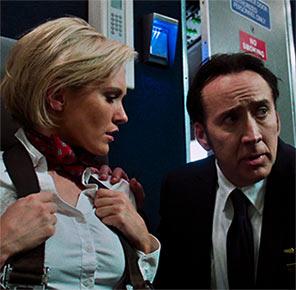 Left Behind is a film you need to leave behind, warns Paloma Sharma.
People disappearing has never been an unfamiliar subject for cinema. Neither has redemption.
But when you add religion to that, you get a completely new concept that has only been known to human kind for, oh, let's say, some 3,000 years?
Nicholas Cage plays Captain Steele, a skeptic pilot who is on the verge of having an affair with a young blonde flight attendant since his wife becomes increasingly religious over the years. She predicts apocalypses and thinks of every natural calamity as a sign from God.
Their older child Chloe arrives home from college to surprise her father for his birthday only to find that he is going to fly to London and that his mistress is going to be on the flight with him.
Father and daughter have a massive passive aggressive I-know-what-you-did-last-summer conversation after which he leaves and she goes home to meet the overly religious mother/resident crazy person, and ends up having a fight with her as well.
Teenagers, I tell you.
Then, suddenly, for no apparent reason, people disappear -- and when I say disappear, I mean vaporised with only their clothes left bunched up wherever they were standing.
One of these disappeared people is Steele's co-pilot.
The plane spins out of control. Down on Earth, riots break out, there is widespread anarchy and I'm sure that
if the film were an hour longer, the Antichrist would have arisen too.
For the rest of the terribly long film, everybody spends their time trying to figure out what happened and why everyone disappeared; and get this, this is the best conclusion they came up with -- God took them to heaven.
Yep, that's right.
And why did God do that, you ask? Well, if Left Behind is to be believed, God did that to save them.
The one who really needs saving is Nicholas Cage.
Cage may have retained his acting skills but he surely hasn't retained his interest. Throughout the film, it seems like somebody has a gun pointed at him and is making him act.
Chad Michael Murray, who plays a journalist, makes the most intensely scrunched up face one can without breaking into a fit of giggles.
Cassi Thomson does put in a sincere amount of effort but there's only so much you can do when the girl you're playing has only one layer of personality.
Left Behind features some poorly thought through dialogue on equality of religions and some worse actors who make you laugh every time they attempt to cry or portray fear.
Cinematography consists of two techniques: a) still wide angles b) uncomfortable close ups.
The miracle of Left Behind will touch your heart in such a way that you will get down on your knees and pray. You will pray to make it stop.
Left Behind is a film you need to leave behind.
Rediff Rating: