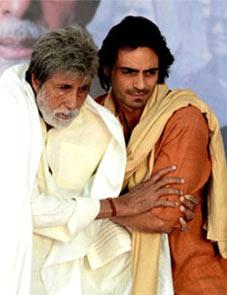 Prasanna D Zore feels Prakash Jha's Satyagraha is a terrible hodgepodge of Arakshan, Rajneeti and Gangaajal.

Like in Aarakshan, Rajneeti and Chakravyuh, in Satyagraha too, Jha dares to take on the well-entrenched vested interests that symbolise the current political turmoil in the country, but in equally frivolous vein fritters away the chance to capture his audience's attention with the mastery that he once showcased while steering Mrityudand, Gangaajal and Apaharan in recent times and much earlier with Damul.

When the film ends -- a good 152 minutes later -- one comes out with a feeling that Jha might have outsourced his job to somebody who was under no compulsion to do justice to his audience as well as to the film's superstar-cast.

When the film opens a train trundles into a fictitious Ambikapur station. Thereon the film trudges its length trying to bank upon such big names like Amitabh Bachchan (Dwarka Anand, a Gandhian school teacher), Ajay Devgn (Manav Raghvendra, an ambitious, wily, businessman-turned Satyagrahi), Kareena Kappoor (Yasmin Ahmed, a journalist-turned Satyagrahi) and Arjun Rampal (Arjun, a student leader).

Sadly, each one of them look out of place in roles that are half-baked and served dry. These characters look as scattered as the scenes that one gets to see in the film after a number of lathi-charges on Anand and his band of satyagrahis.

While Bachchan tries honestly to portray Anna Hazare -- there is lot of resemblance between the star cast of Satyagraha and the personalities that made Team Anna in the heydays of the Gandhian's agitation to enact the Jan Lokpal Bill in August 2011 -- in the first half of the film, past interval he gets overwhelmed by the weak script that tries to give screen time to the entire star-cast.

Ajay Devgn looks drowsy throughout the film. The ease with which he delivers his punchlines is sorely missed as he mumbles his dialogues.

Kareena Kapoor's TV journalist is all over the place. Strangely, at times she is the only journalist shown to be covering the "revolution" that engulfs the streets of Ambikapur as the 70-year old Anand slaps the district collector and gets arrested for taking on the wily Balram Singh (Manoj Bajpayee) and the system.

Arjun Rampal is so casual with his character that at times you wonder if he is taking a stroll in the garden as he shares dais with a fasting Anand, Manav and Yasmin.

On the opposite side of these satyagrahis is Bajpayee, who plays a scheming legislator from Ambikapur, and at times gets to show his venality and guile. Bajpayee does play his politician shrewdly but at times stretches his funny bone a little too much.

In an attempt to connect Anand's revolution with the twitter-generation, Jha makes abundant use of hash-tags and asterisks, tablets and laptops, but he forgets that these media can just act as catalysts to bring the revolutionaries together. These media can never substitute the real ingredient that inspires revolutions and revolutionaries. And that is a strong script, a gripping storyline and spell-binding story-telling.

Satyagraha fails miserably in all these three departments.

However, an attempt to recreate the scenes that the nation witnessed during Anna Hazare's agitation in August 2011 does create some resonance with the events India was glued to 24x7.
Music by Indian Ocean, Salim-Suleiman, Aadesh Shriivastava and Anjjan Meet fails to uplift the film's tired mood and lyricist Prasoon Joshi makes you run for shelter with numbers like Janata Rocks!

And here's why one feels that Jha seems to have outsourced his job:

Don't miss the scene when Manav explains his strategy on a whiteboard to find out pending applications of thousands of villagers from more than 200 panchayats to take on Balram Singh and his inefficient district administration.

Ahmed's cameraman keeps shooting Anand who is seated opposite Manav, instead of Manav. Such a neglect for details elicits laughter and makes you think if Jha really, really was the helmsman of this sinking ship.

Having said all this Jha must still be appreciated for making films on topics that the mainstream Bollywood producers-directors happily ignore to explore. Never mind the film's treatment, though.
Rediff Rating: