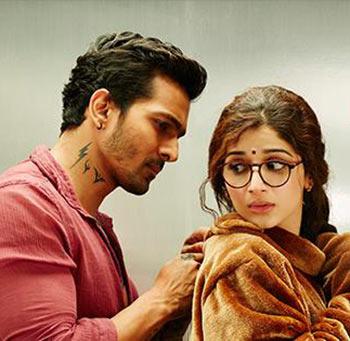 Sanam Teri Kasam is a good soundtrack, promises Aelina Kapoor.
Composer Himesh Reshammiya and lyricist Sameer Anjaan come together for the soundtrack of the romantic musical Sanam Teri Kasam, starring Harshvardhan Rane and Mawra Hocane (in the picture).
Ankit Tiwari and Palak Muchhal pair up for the title song, in quintessential Himesh Reshammiya style. It's so perfect that one is happy to hear the 'reprise version' with Mohammed Irfan and Palak Muchhal as well.
One is reminded of Aankh Mare from Arshad Warsi's Tere Mere Sapne, in Kheech Meri Photo, composed by Radhika Rao and Vinay Sapru. It's a well-paced playful song sung by Neeti Mohan, Akasa Singh and Darshan Raval.
Himesh Reshammiya takes on the mike in Bewajah. He seems to have let go of his nasal twang, and puts together a number that hits the right notes.
The song gets a good follow up with the Shabbir Ahmed-written Tera Chehra, which reminds us of the kind of compositions Himesh had put together for his under-rated soundtrack for Ahista Ahista (starring Abhay Deol and Soha Ali Khan). The song is sung by Arijit Singh.
In the same mode arrives Haal–E-Dil which has two versions to it, first by Sreerama Chaandra and then by Neeti Mohan. A romantic number with a 1970s feel, it moves at a slow pace. This also means that the song will take some time to grow on a listener but once it does, it may find a place on the playlist.
Ek Number makes a desperate attempt to sound cool but does not cover the distance. Sample the lyrics (by Himesh himself): 'Wikipedia Pe Check kar Le, Google Tu Search Kar Le, Naiyyo Milega Aisa Yaar Soniye'. Neeti Mohan gives Himesh company behind the mike.
Things return to normalcy with Subrat Sinha written Main Teri Yaadon Mein. Though it does carry an inherent sad appeal to it, the Arijit Singh song does reasonably well to keep the momentum on, courtesy a good pace that Himesh gives to this four-minute long piece.
Overall, Sanam Teri Kasam is quite a good soundtrack.
Rediff Rating: