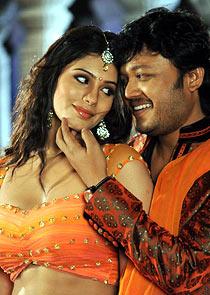 Srikanth Srinivasa says 'Kannada movie Sakkare is a sugar coated movie with a message that says life is not so complicated'

Young and upcoming director Abhaya Simha who has been mostly associated with art house films has made a sincere effort to weave a love story that is watchable and sweet as the name suggests (Sakkare means sugar). By adapting O. Henry's short story 'The Last Leaf', Simha has tried to give the film a commercial touch.

The film is about Neha (Deepa Sannidhi), a lovelorn girl who is nursing two heartbreaks. Her elder sister Sneha (Anu Prabhakar) provides the necessary emotional succour where her own love life is blooming with her boss. Neha bumps into friendly neighbourhood Vinny (Ganesh) who is not only a go-getter but also someone who helps people in depression.

At first Neha gets irritated with Vinny's talkative ways but impresses upon her to reveal about her heartbreaks. He then fills her mind with hope as she tries to commit suicide. While he has always been fond of her he impresses her to believe him that he was witness
to all the happenings and failures in her love life and that she did not notice him at all.
Does Neha fall in love with Vinny? Does Vinny succeed in wooing her? Watch the movie to know the answer.
Ganesh is back as a lover boy after a gap. Although he impresses with his timing he looks a bit jaded and tired in some scenes.
Deepa Sannidhi is gorgeous and natural but could have been better. Anu Prabhakar impresses and so does Achyuth Kumar as Ganesh's uncle. Anant Nag and Vinaya Prasad as the old couple light up the screen with their mere presence.
V Harikrishna's music is pleasant and especially the song Free Ideera is already a chartbuster.
Dr Vikram Srivastava's camera work is impressive.
Director Abhaya Simha has made a sincere effort in changing his t(r)ack to commercial cinema with a decent screenplay.
Sakkare has innocence written all over and does give a peek into dealing with heartbreaks and the need for companionship.
Sakkare seems to send a message that it is a movie for all those who are romantic at heart.
Rediff Rating: