'He is evil in its most hypnotic, powerful, persuasive, expressive and exonerated avatar,' notes Sukanya Verma.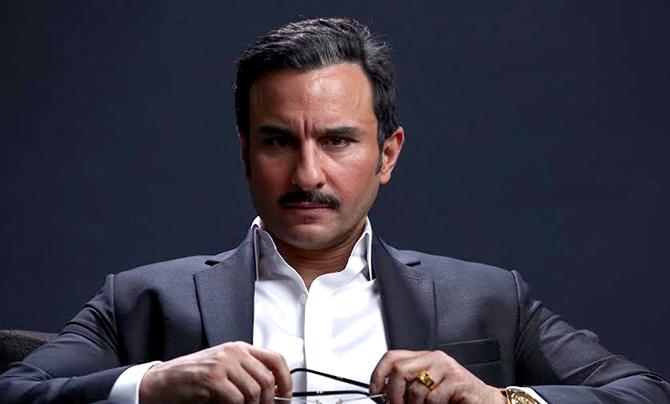 When I think about Saif Ali Khan's early movies, I imagine a clueless kid using all his charms and still getting bullied. Somewhere his insecure, self-deprecating manner became part of his clumsy, cool appeal. It worked fabulously around urban rom-coms until he reached a stage of experiments.
Some of his endeavours stunned, some didn't go anywhere. Yet Saif's gentle resolve to grow prevailed despite shrinking viewer interest and woeful lack of success.
As I watch him now, playing a character in complete control of his fate and deceit, I see a self-possessed actor whose progressing potential overshadows the conventional barometer of stardom. Too bad this realisation has to happen during an utterly ordinary, unoriginal movie like Baazaar.
But look how far he has come. As the stock market bully committed to staying on top of the game by hook or crook, he walks into the frame in traditional Jain temple attire packing off an old timer, scorning at his integrity while asserting his own avarice.
Saif plays a business baron called Shakun Kothari sporting a milder version of Aruna Irani's silver streaked mane in Beta. It takes a moment to adjust to the Winchester lad grumbling about his Kendriya Vidyalaya alumnus.
Accents are something the actor has always grappled with and his 'Gujju' doesn't have the informal flow of a native's tongue. What there is -- cunning, deliberation, intelligence and relish -- provides Baazaar's Wall Street-filching script its sole source of spunk.
It is not the first time the Gordon Gekko-Bud Fox equation has captured Bollywood's fancy. Except the less said the better about Goldie Behl's Bas Itna Sa Khwaab Hai and John Mathew Mathan's Shikhar's idea of flawed idol-blind follower.
In Gauravv K Chawla's Baazaar too, barring Saif and a few stray moments there is not much to write home about. Where Saif's on screen trickery reveals his willingness to go in the greyest of areas, newcomer Rohan Mehra's inability to emote is plain killjoy.
There is a scene where a huge risk at work pays off leading to a major career breakthrough after which he rushes to the washroom and throws up. The nerve-racking mood, its urgency and the subsequent significance of his achievement are lost in his expressionless face.
Mehra plays Rizwan Ahmed, an Allahabad-hailing trader looking to make it big in the city of big bucks by channelling the overconfidence of a certain lanky guy in Trishul sans the anti-R K Gupta stance.
Throw in a ravishing Radhika Apte as the colleague with benefits and Rizwan's crash course in how to join the big league in no less than six months begins.
Swallowing one's pride is the first casualty on the path of ambition is what he learns as Baazaar chronicles Rizwan's rise from Shakun fanboy to Raju Ban Gaya Gentleman style scapegoat.
In the same space, Aziz Mirza focused on small-town aspirations wolfed down by big city's flexible conscience using wit and realism.
Baazaar shuns subtlety for cheesy drama and engineered confrontation. Everybody spews gyaan to someone who then quotes the same gyaan back to them and the cycle goes on and on.
Corporate fights extend to classroom shaming and PTA meeting punches or Madhur Bhandarkar-brand of blackmail and betrayal.
It's a minor scene yet Baazaar using two men cozying up in a photograph as extortion bait shows its undesirable homophobic mind-set. The awkward elephant mating analogies it uses to check infidelity is equally foolish.
When not speaking the language of big Bollywood drama, there's tons of finance jargon tossed in to establish its milieu. The dirty politics of stock trade might not hold everyone's interest but Baazaar's focal point is how much compromise is exempt from moral scrutiny.
Often characters -- none of which are women, who are purely eye candy -- break the fourth wall to communicate the nitty-gritties of their professional world or pull out some jerky editing techniques to offer nothing of value.
Save for Saif. His character has a thing for stories and tells them like riddles with deviousness stroked in affability. He is evil in its most hypnotic, powerful, persuasive, expressive and exonerated avatar -- now where have you heard of this kind before?
Rediff Rating: