Saif ensures he doesn't seem like a gimmick in the film, notes Sukanya Verma.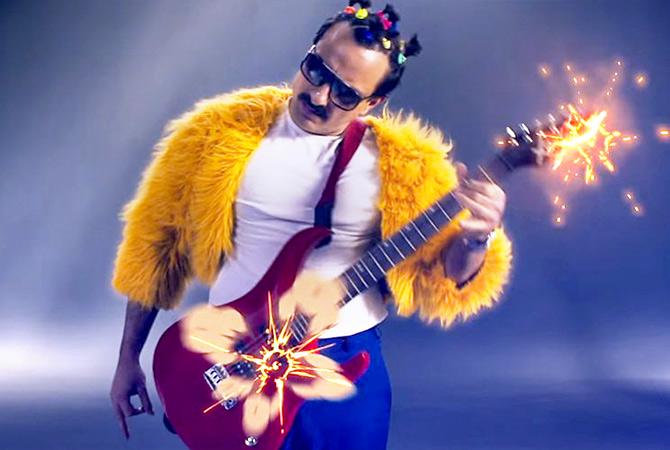 'I am a good person you know,' laments Saif Ali Khan's character on learning he's dying from stomach cancer as if his propriety was supposed to be some kind of coverage from life-threatening conditions.
The only silver lining to it is that he's now free to do as he wills.
With prescription drugs of no use anymore, he promptly proceeds to pop a hallucinogenic pill, one that looks more like a star-shaped cupcake candy, to behold a hawaldar in Asha Parekh's most iconic costume and slip into a faux fur bolero sporting Gwen Stefani's 'hair turds.'
Akshat Verma's A-rated directorial debut is a strange romp that treads the space between crisis and chaos with a humour that feels natural even in its most outlandish impulses.
Devoid of structure and sense, Kaalakaandi is much too fragmented and facile to provide the gratification of a conventional feature film. It's often the point behind its deliberate irregularity.
Driven by aberration and not coherence, Kaalakaandi, which loosely translates to a big mess, peeks into three set of lives linked by recklessness and the varying degree of price they pay for it.
As is often the trouble with multiple storylines, the shift is uneven and disorienting.
Unravelling through the course of a rainy Mumbai night, the non-Saif narratives -- a couple (Kunaal Roy Kapur, Shobita Dhulipala) caught in the middle of a drug raid and hit-and-run and two underworld small-timers (Vijay Raaz, Deepak Dobriyal) bouncing off various schemes to swindle their boss -- lack the hysteria and cheek.
The conscience in the first and the deceit in the second story awkwardly lumber next to Saif's psychedelic shenanigans and surprising sensitivity around a transgender prostitute (a terrific Naari Singh).
There's a sliver of a subplot in the form of his brother (Akshay Oberoi), who between getting hitched and a haircut, finds time to keep a rendezvous with an ex-girlfriend.
Raaz and Dobriyal are a dream pairing, but their expletive-packed exchange never quite conveys the bite of deceit or elevates a trite plot point into something special.
The viewer is privy to their conversations, but never grasps their duplicity.
As the most dispensable property of this arc is Neil Bhoopalam's daft gunslinger who looks even more pointless immediately after a shot of Feroz Khan doing his cowboy shtick in Kala Sona.
Verma may play against the grain, but his knowledge of mainstream Bollywood is craftily applied to generate droll humour. Who knew Amitabh Bachchan on a T-shirt could mean so much mischief.
Of course, the real scene-stealer is someone else, Saif is an absolute hoot in his unbridled delivery of a man with nothing to lose, unbothered by conventions of a formal society, openly flouting them to engage in brazen mockery and lustful inquiries on 'Aapka Australia. Aapka Southern Hemisphere Aapka Cape of Good Hope.'
Although his character, whose name we almost don't discover till the very end (and probably a hat tip to Akshat's brother?) is overwhelmingly explicit, Saif ensures he doesn't seem like a gimmick.
There's a suppressed philosophy in his feverish outbursts that suggest a curiosity, sadness and an unfulfilled life in desperate need of a high.
Kaalakaandi doesn't always provide it, but there's enough intrigue to play along.
Rediff Rating: