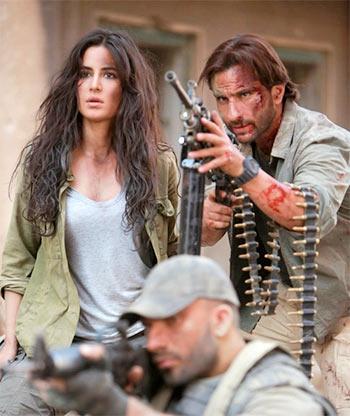 Stay away from Phantom; it gives audiences a raw deal, cautions Raja Sen.
Old jungle saying: cast a film well.
There is a lot that a film-going audience can forgive in a production -- from continuity errors to script flaws, from incoherent cinematography to weak plots.

But one of the hardest to overlook is when the filmmakers pick the wrong people for the principal parts.

Truly remarkable lead actors are magic -- they salvage a bad film or shoulder a good one, and shine even when the film around them is flimsy -- but even merely suitably-chosen actors can, at the very least, make a film appear adequate.
What, then, does Kabir Khan do?

Who does he –- a man who has just given Salman Khan the biggest hit of his career in Bajrangi Bhaijaan -– cast in a film about killing terrorists and "vigilante justice"?

A tough action hero and a girl who knows her way around a minefield?

Actors who appear gritty and credible when squeezing a trigger, looking like morality is a luxury for those who get to sleep at night?
No.
He casts a Nawab and a mannequin.
Phantom could never have been a great film.

Based on a book called Mumbai Avengers, it was always going to be an unsubtle work of jingoistic finger-pointing, a film that suggests that intelligence agencies securing a nation should blindly rush into eye-for-an-eye territory.

Yet while it remains a work of immature, even irresponsible wish-fulfillment, that in itself does not keep it from being a passable actioner.

In fact, we saw something similar earlier this year with Neeraj Pandey's Baby, which, while not particularly sharp, was slickly watchable -- largely because of how Akshay Kumar took a role with negligible depth and created a protagonist worth watching.
Alas, here we have the Anari to Kumar's Khiladi.

Phantom stars Saif Ali Khan in the John Rambo mould, a loner coaxed out of an invisible, ex-Army life to assassinate evil Pakistanis.

Yes, it's Saif Ali Khan essentially playing Sunny Deol. This is a patently absurd bit of casting, defeated only by the choice of the doll-faced Katrina Kaif as a former RAW agent.

Khan, who would much rather charm in a suit, here wears one scowl throughout, while Kaif, who speaks every line of dialogue in the same pre-teen tone, is here made to pick up a machine gun and fire.
Everyone misses the mark.

Kaif's character, the director, and Saif.

This is less a motion picture and more a vanity vehicle for two stars who want to try roleplaying as GI Joes.

The result is an exasperatingly childish film.

When Khan tells Kaif about his deadly classified mission, she rolls her eyes casually, cutely peeved at how he's always dragging her into things.

When she speaks of childhood memories of her father taking her to tea (and cake) at the Taj -- the hotel ravaged by the 26/11 attacks -- his immediate reaction is to smile and declare that he'll take her there "once all this is over" for tea (and cake), hence making clear his intent to pounce on her daddy issues.
She isn't the only one with daddy issues, to be fair.

Saif's character, Daniyal Khan, is a disgraced-Army man who keeps phoning his father who keeps hanging up, because that "disgraced" part doesn't sit well with him -- even though there is absolutely no evidence against Daniyal.

Dad has also presumably burnt up all adult pictures of his son, which is why the only photograph of Daniyal his mother finds is one from his youth: Saif as an effeminate 16-year-old, the kind of guy who'd sing about blue dupattas and yellow suits.

Perfect.

Just the reminder we need to reinforce the idea of a truly macho Saif.
Pointed parallels are drawn to the real-life masterminds behind the 26/11 attacks, and an attack on David Headley is genuinely interesting, if a trifle too convenient.

Kabir Khan mounts his action scenes competently, even impressively -- I was rather taken aback by the appearance of a submarine at one point -- but, in an effort to mislead the audience into tension, there is too much cross-cutting to try and bring us close to the wire.

This may be fine in theory, but in practice it means repeated shots of Saif biting his lip, intercut with shots of a paunchy cop running really slowly, and in slow-motion.

Sigh.
Tragically, pretty much everything in Phantom goes according to plan, making for an inert, unchallenging and boring watch.

By the time the Titanic-themed climax rolls around, even Katrina's exhausted by the nonsense; she stops pretending to care and starts shouting "Daniel!" instead of Daniyal.
According to this film, India's Research and Analysis Wing is a threadbare office, full of old and dusty files yanked from cabinets by character actors who must wish they were in sensible films instead.

Over in Pakistan's ISI, equally fine actors stand around a computer waiting forever for a jpeg to download.

Shameful, really.

All this talk of intelligence, but no smarts anywhere in sight.

Stay away from Phantom. It gives audiences a raw deal.
Rediff Rating: