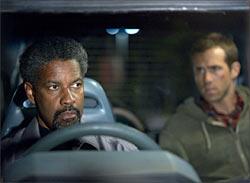 Arthur J Pais feels that despite all its action, body count, and blood, Safe House is a character-driven movie.
Today, the 33-year-old Swedish director Daniel Espinosa is little known outside of Hollywood studio bosses and talents who have seen his crime drama
Snabba Cash
(
Easy Money
), which hasn't had a release as yet in American movie theatres. But with the arrival of his
Safe House
(
released today in the United States
), a tense, stylish and well acted thriller, Espinosa is sure to be on the A-list in no time.
Some viewers might find the new film toplining Denzel Washington, 56, and a much younger Ryan Reynolds (
Green Lantern, Buried
) a bit bleak and too violent, especially at the end. And in places, the narration is confusing, and you get the feeling there are too many things happening. And, yet, it is one of the most thrilling mainstream movies seen in recent weeks and could do well worldwide.
It could open at No 1 across North America this weekend, though
The Vow
, targeted mostly at women, could lead the box-office pack. A Valentine Day weepie starring Rachael McAdams and Channing Tatum,
The Vow
tells a story inspired by real life events. A young married couple sees their lives come to a terrible pass as an accident leaves Paige (
McAdams
) with amnesia. Leo (
Tatum
) starts the seemingly impossible task of starting a new relationship with her.
But back to
Safe House
. Here is yet another example of the director of a small film landing a big Hollywood film, and coming out with flying colours, as did such film makers as George Lucas and Steven Spielberg with their second films.
Snabba Cash
was made for less than $4 million while
Safe House
, the first English-language film Espinosa has made, cost at least $80 million.
Espinosa did not see the David Guggenheim script purely as an octane-filled thriller
but as a drama of inner demons and elusive inner redemption.
'I liked that it had a strong pace and was almost a classic American cowboy story,' he said in an interview. 'It's almost like the reverse story from (
the Clint Eastwood-directed
) Unforgiven. You have the old gunslinger who's been corrupted by the nature of his work and the world around him. Then you have the young guy that believes that he can maintain the sensation of adventure and ethics. There are morals within that world. The old guy sees himself in this kid.'
Ryan Reynolds is CIA agent Matt Weston posted at a secret facility in South Africa, where Tobin Frost (
Denzel Washington
), a renegade former CIA agent, who has spent a decade evading capture, is housed.
When the house is attacked by extremely violent mercenaries, Weston flees, trying to keep Frost, his prisoner, away from harm. A lot of blood will spill as they seek another safe house. But the escape and concomitant dangers also reveal the secrets behind Frost's fugitive years.
Frost, who was known for his interrogation techniques when he was a CIA officer in good grace, is an enigmatic and troubled person and Washington does a good job of bringing this complex character alive. Had this film been released in November or December last, it might have produced an Oscar nomination for him.
For all its action, body count, and blood,
Safe House
is still a character-driven movie, and though some may think that they have had too many films featuring a black guy and a white man in the lead, there is a lot of vibrant chemistry between Washington and Reynolds.
To hold one's own in the presence of acting dynamo Washington is never easy. But Reynolds is quite effective as he communicates his fears and conflicts in a natural way.
This is a career-making performance from him and director Espinosa. But the latter should look around for a more streamlined screenplay.
Rediff Rating: